Blissful Blog's Chocolate Hazelnut Avocado Cake
Secret Baking Weapon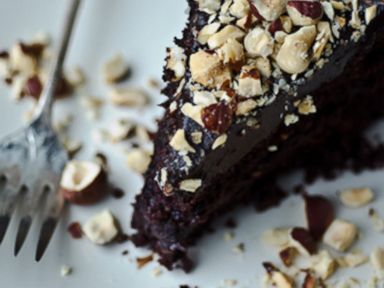 From the kitchen of Blissful Blog
|
We've all had the experience of tasting a dessert and not quite being able to identify what makes it taste so delicious. Using unusual ingredients, like vegetables, can create extra-special unexpected results. Try adding avocado as a butter replacement. Get Blissful Blog's recipe for Chocolate Hazelnut Avocado Cake below.
Ingredients
For the cake:
2 cups whole-wheat pastry flour
1 cup hazelnut meal
6 tablespoons unsweetened cocoa powder
1/2 teaspoon salt
2 teaspoons baking powder
2 teaspoons baking soda
2 cups granulated sugar
1/4 cup vegetable oil
1/2 cup soft avocado, mashed, about 1 medium avocado
2 cups water
2 tablespoons white vinegar
2 teaspoons vanilla extract
1/4 cup chopped hazelnuts for garnish
For the frosting:
1 large ripe avocado, peeled and seeded
1/2 cup unsweetened cocoa powder
1 3/4 cup powdered sugar
1/2 teaspoon vanilla extract
1/4 teaspoon kosher salt
Cooking Directions
For the cake: Pre-heat the oven to 350 degrees. Grease and flour two 8-inch round cake pans. Set aside.
Sift together all the dry ingredients except for the sugar.
In the bowl of a stand mixer, place the avocado and mix on medium speed until smooth. Add the rest of the wet ingredients and the sugar and mix until combined. Add the dry ingredients and beat until smooth.
Divide batter between the two prepared cake pans. Bake for 30 to 40 minutes, until a toothpick inserted into the middle comes out clean.
Let cakes cool in pan for 15 minutes, then turn out onto cooling racks to cool completely before frosting.
For the frosting: In a stand mixer whip the avocado until it forms a smooth mixture. In a medium bowl sift the cocoa powder and powdered sugar together and then add to the bowl along with the salt and vanilla extract. Whisk the mixture until you get a smooth frosting.
To serve: Once the cake is completely cool spread the frosting on the top of one layer, place the other layer on top and cover with remaining frosting. Sprinkle the hazelnuts over the top and serve.
Recipe by Tina Jeffers.
Other Recipes That You Might Like