Chocolate Star Cookies
Try These Sweets for Your Holiday Cookie Plate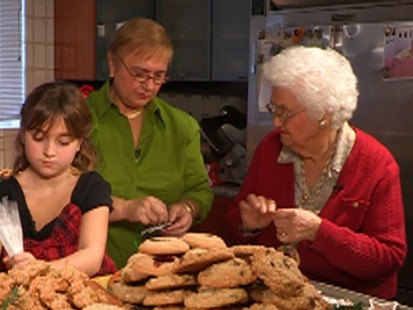 TV chef Lidia Bastianich teaches John Berman to bake perfect holiday desserts.
From the kitchen of Lydia Bastianich
|
These classic cookies are just the right blend of sweetness and chocolate. Your family is sure to love them.
Ingredients
For the Cookies
2 cups all-purpose four
1/2 cup unsweetened-Dutch-pressed cocoa powder
1/2 teaspoon salt
1 cup unsalted butter, softened
3/4 cup sugar
1 large egg yolk
1 teaspoon pure vanilla extract
snowflake and star cookie cutters
For the Icing
1 large egg whtie
pinch of cream of tartar
2 cups of confectioner's sugar
sprinkle, sanding sugar
Cooking Directions
For the Cookies:
Whisk together flour, sugar, cocoa powder, baking powder and salt. Beat butter and sugar with electric mixer until pale and fluffy about 2 minutes, then beat in yolk and vanilla. On low speed, mix in flour mixture just until a dough forms. Divide the dough in half, flatten each piece into a disc and then chill them, wrapped in plastic wrap, until firm or 2 to 3 hours.
Preheat the oven to 350F with racks in top and bottom thirds. Line 2 baking sheets with parchment paper. Roll out 1 piece of dough between the sheets of parchment paper into a 14-by-10 inch rectangle (1/8 inch thick). Cut out as many stars as possible, reserving and chilling the scraps, then quickly transfer the cookies to the baking sheet, arranging them 1/2 inch apart. (If the dough becomes soft, return it to the freezer until it is firm.)
Bake it until it is firm and slightly puffed, about 10 minutes. Cool the cookies on the baking sheet for 5 minutes, then transfer them to the rack to cool completely. (The cookies will crisp as they cool.) Make more cookies with the remaining dough and scraps, rerolling scraps only once.
For the Icing:
In an electric mixer with the whisk attachment, beat egg white and cream of tartar until foamy. Sift in half of the sugar and beat until smooth, about 1 to 2 minutes. With the mixer running, gradually add the remaining sugar and beat on high until the icing is smooth and thick.
Transfer the icing to a pastry bag with a small round tip. Pipe decorations of your choice, adding each one before the icing hardens.
Other Recipes That You Might Like