Chris Cosentino's Pears, Roasted Chestnuts and Bitter Honey
A New Recipe to Try This Season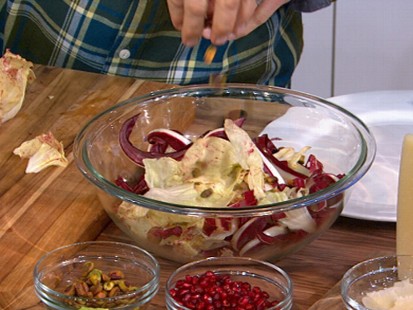 "Top Chef Masters" winner makes treviso, pomegranate and pistachios on "GMA."
From the kitchen of Chris Cosentino
|
When roasting, chestnuts have a very distinct smell that remind me of vendors on street corners and roadsides on the East Coast and in Europe. Juniper enhances the nuttiness of the dish and buckwheat honey adds a note of bitterness to round out the sweetness of the pears.
Ingredients
8 chestnuts
1 tsp juniper-infused balsamic vinegar (see Sources)
1 tbsp fresh lemon juice
1 tbsp extra-virgin olive oil
1 Anjou pear
1 red Bosc pear
Pinch of juniper berries, crushed in a mortar and then finely minced
Kosher salt
4 tbsp (2 oz/60 g) rendered duck fat
Buckwheat honey for drizzling (see Sources)
Cooking Directions
Preheat the oven to 500°F (260°C). Using a chestnut knife or a small, sharp knife, score the domed top of each chestnut with an X and place in a small roasting pan. Roast the chestnuts until the skins blister and begin to peel back from the scored marks, 10–15 minutes. Remove the chestnuts from the oven and let them cool just until they can be handled. Then, using your fingers, peel the nuts, removing both the hard outer shell and the beige, thin skin right below it. Break each chestnut into small pieces.
In a large bowl, whisk together the vinegar, lemon juice, and olive oil. Quarter each pear lengthwise, cut away the core, and then cut each quarter lengthwise into thin wedges. Add the wedges to the lemon juice mixture. Measure 1/4 teaspoon of the minced juniper berries, add to the bowl, season with salt, and toss to mix well. (Reserve or discard any remaining juniper.) Set aside.
Line a plate with paper towels. In a sauté pan over medium-high heat, warm the duck fat until melted. Add the chestnut pieces and sauté until golden brown, about 4 minutes. Transfer the chestnuts to the towel–lined plate to drain. Season with salt and keep warm.
Arrange the pears on a platter or divide between individual plates. Arrange the chestnuts on the platter or plates around the pears. Dip a spoon in the buckwheat honey, pull it out, and let the honey flow off of the spoon back into the container. When only a thin stream is falling from the tip of the spoon, move the spoon over thesalad and drizzle the honey over the top in a circular pattern. Serve rightaway.
Recipe courtesy Chris Cosentino.
This recipe was styled by chef Karen Pickus for Good Morning America.
Other Recipes That You Might Like