Girl Who Bakes' Cinnamon Sugar Donut Muffins
Killer Combo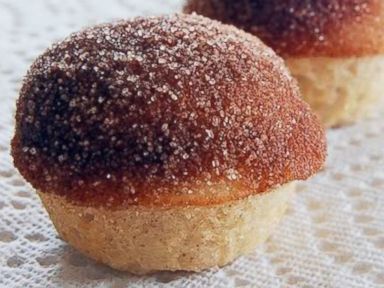 From the kitchen of Pillsbury
|
Hack the hybrid food trend at home with Girl Who Bakes' innovative recipe for Cinnamon Sugar Donut Muffins.
Ingredients
For the donuts:
1 3/4 cups all purpose flour
1 1/2 teaspoon baking powder
1/2 teaspoon salt
1/2 teaspoon nutmeg
1/2 teaspoon cinnamon
1/3 cup unsweetened applesauce, strained
1 tablespoon vegetable oil
3/4 cups granulated sugar
1 large egg
3/4 skim milk
For the topping:
2 tablespoons melted butter
1/4 cup granulated sugar
2 teaspoons cinnamon
Cooking Directions
Strain applesauce via sieve or paper towels for 15-20 minutes.
Combine flour, baking powder, salt, nutmeg, and cinnamon in a bowl and set aside.
In a large bowl, whisk together applesauce, oil, sugar, egg, and milk until combined.
Slowly add dry ingredients to wet ingredients and whisk together until no large lumps remain.
Scoop into muffin tins and bake at 350 degrees for 15-17 minutes. (mini versions only need to bake for 7-8!). do not over-bake!
While your donuts are baking, melt butter in a heatproof bowl in the microwave. in a separate dish, mix together sugar & cinnamon until combined.
Take donuts out of the oven and let rest for 1-2 minutes. while still hot, shake out of muffin tins. dip tops into butter, then sugar mixture, then let dry on wire rack for 5-10 minutes.
Other Recipes That You Might Like