The Classic Egg with Canadian Bacon Bagel Thins™ Bagel
You Can't Go Wrong With This Classic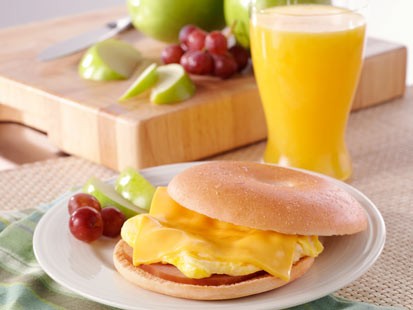 From the kitchen of Thomas' English Muffins
|
Ingredients
1 Thomas'® 100% Whole Wheat Bagel Thins™ Bagel
1 large egg
1 slice Canadian bacon
1 slice reduced fat American cheese
Cooking Directions
Beat egg in small bowl. Coat a microwave-safe 5-inch ramekin or small bowl with non-stick spray. Add egg to prepared dish and microwave for 1 minute at 60% power. Actual times may vary slightly due to appliance wattage. Wrap Canadian bacon in a paper towel and place on a small microwave-safe plate. Cook for 1 minute at 50% power. Toast Thomas' Bagel Thins Bagel. Layer bacon, egg and cheese on bagel.
Enjoy a variety of flavors. Why not try a smoked gouda cheese or your favorite reduced fat cheese next time.
Recipe courtesy of Thomas' English Muffins.
NUTRITION INFO:
Calories – 280
Total Fat – 11g
Cholesterol – 255mg
Sodium – 950mg
Total Carbohydrate – 25g
Dietary Fiber – 4g
Protein – 20g
Other Recipes That You Might Like