Home
>
GMA
>
Recipes Home
>
Clinton Kelly's Honey-Roasted Figs with Vanilla Ice Cream and Amaretti Cookies
Clinton Kelly's Honey-Roasted Figs with Vanilla Ice Cream and Amaretti Cookies
Impress Your Guests With This Fall Dessert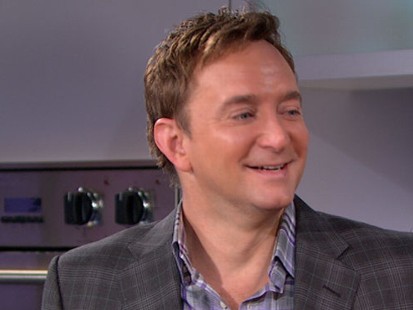 Co-host of ABC's "The Chew" makes honey-roasted figs.
From the kitchen of Clinton Kelly
|
An elegant dinner party dessert, honey roasted figs are a beautiful way to add a touch of fall to your menu.
Ingredients
1 pints black mission figs, halved
1 cup honey
Zest and juice of 1 orange
¼ cup sugar in the raw
1 pint vanilla ice cream
1 7-ounce package of amaretti cookies
Cooking Directions
Preheat the broiler to low.
Place the figs in a baking dish, skin-side down. Heat the honey in a small saucepan just until it begins to foam around the edges and add the orange juice and zest. Reduce over medium heat until the honey mixture coats the back of a spoon, about 3 minutes. Set aside.
Brush a little bit of the honey mixture over each fig and top with a little of the sugar mixture. Place under the broiler until the sugar is caramelized and the figs are tender, turning the baking dish halfway through the cooking. This should take 1 to 2 minutes. Remove and set aside.
To plate: place a scoop of ice cream in a bowl and top with 3 or 5 figs. Drizzle some of the remaining honey syrup over the top. Crush a couple of amaretti cookies with your hands and sprinkle over the top.
This recipe was styled by chef Karen Pickus for Good Morning America.
Recipe courtesy Clinton Kelly
Other Recipes That You Might Like