Clinton Kelly's Romaine Heart BLT
The Classic Sandwich Gets a Carb-Free Twist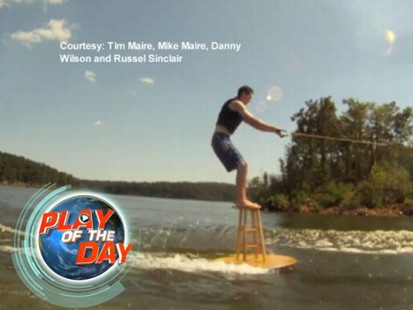 Josh Elliott reveals crazy video of person's interesting take on waterskiing.
From the kitchen of Clinton Kelly
|
This easy to make finger food recipe is an instant party hit. The romain cups are the perfect vessel for tomatoes and bacon.
For more great recipes visit The Chew's site.
Ingredients
6-7 Slices Bacon
2 Romaine Hearts
10 Cherry or Pear Tomatoes, Halved
1/2 Cup Spicy Mayo
Cooking Directions
Fry up the bacon, nice and crisp. When it cools, break the slices into manageable pieces.
Cut the base off the romaine hearts and cut into 3 inch pieces.
On each leaf, place half a tomato and a dollop of spicy mayonnaise. Keep nice and cold until ready to serve. Then top with a little bacon and make your friends happy.
Recipe courtesy of The Chew.
Other Recipes That You Might Like