BuzzFeed's Coffee Crumb Cake French Toast
"GMA's" Food Mix and Mash-Up!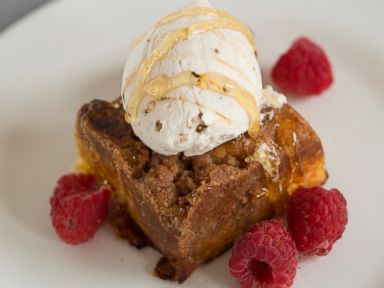 From the kitchen of Emily Fleischaker
|
Frankenfood mash-ups such as the Cronut, ramen burger and quesarito are all the rage right now -- and we can't get enough! We challenged BuzzFeed's food editors to create the wackiest, most out-there food creations possible, and the results are insanely delicious. Try one of their crazy creations with the below recipe for Coffee Crumb Cake French Toast.
Ingredients
French Toast:
6 eggs
Pinch of kosher salt
1 1/2 tablespoon instant coffee or instant espresso powder
1 1/2 cups milk
1/2 teaspoon vanilla extract
1 18-ounce store-bought crumb cake, cut in 9 squares
3 tablespoons butter, divided
Coffee Whipped Cream:
1 cup heavy cream, chilled
1 tablespoon confectioner's sugar, sifted
1 teaspoon instant coffee or instant espresso powder
Optional:
Fresh berries
Maple syrup
Cooking Directions
French Toast
Preheat oven to 200 degrees F to keep slices warm as you finish them.
In a medium bowl, beat eggs with salt and 1 1/2 tablespoons instant coffee. Whisk in milk and vanilla.
Lay out the coffee cake squares in a single layer in a large baking dish and pour the egg mixture over. Soak for about 30 seconds, flip cake squares, and let sit for another 30 seconds or until the squares are fully saturated.
Heat a 10-12" nonstick or cast iron skillet over medium-low heat.
Melt 1 tablespoon butter (or less if you're using a nonstick pan) in the hot skillet and add one or two slices of soaked crumb cake, crumb side up, making sure to leave space between the pieces. Cook 2 to 3 minutes, until golden-brown, then flip with a spatula and repeat on the other side. If the cake is burning, turn the heat down a little. When the top and bottom are brown and crisp, use tongs to turn the cake sideways and brown each of the four sides for about 30 seconds each side, just to until a light crust forms. Repeat with the remaining slices of cake and butter; you can eat right away or keep slices warm on a tray in the 200 degrees F oven while you cook the rest.
Coffee Whipped Cream
Whip cream in a bowl by hand or with a mixer just until it holds soft peaks. Add 1 teaspoon instant coffee and 1 tablespoon confectioner's sugar and whip for another 10 seconds just to blend.
Serve slices of French toast with a dollop of whipped cream, with berries and maple syrup on the side.
Other Recipes That You Might Like