Colonel Sanders' Chicken Brunswick Stew
Delicious Comfort Food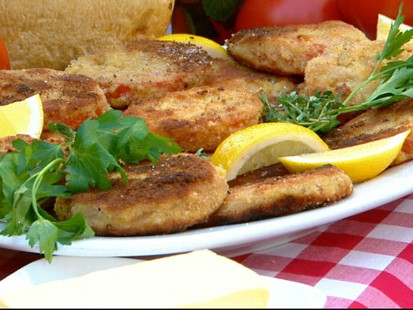 Amy Robach talks to a chef putting a new spin on the colonel's dishes.
From the kitchen of Colonel Sanders
|
Ingredients
3 1/2 pounds (1.5 kg) chicken parts
Salt and pepper
4 bacon slices, cut into 1-inch (25 mm) pieces
2 cups (500 mL) warm water
1 (28-ounce/775 mL) can diced tomatoes
3 medium onions, peeled, halved and thinly sliced
2 tablespoons (30 mL) Worcestershire sauce
1 1/2 teaspoons sugar
1 teaspoon salt
1 (10-ounce/315 g) package frozen baby lima beans or broad beans
2 cups (420 g) canned whole kernel corn, drained
2 tablespoons (25 g) butter
1 teaspoon cayenne pepper
Cooking Directions
Season chicken with salt and pepper. Set aside.
Fry bacon pieces in a 4- to 5-quart (3.6- to 4.5 L) Dutch oven. Remove bacon with a slotted spoon and drain on a plate that has been covered with a paper towel. Set aside.
Add chicken pieces to the bacon drippings. Fry over medium-high heat, turning pieces until they are golden brown all over. Pour off drippings.
Add the water, tomatoes, onions, Worcestershire, sugar and salt. Stir, cover, and simmer over low heat until the chicken is tender, about 1 1/2 hours.
Remove chicken from the pan with a slotted spoon. When cool enough to handle, discard skin and strip meat from the bone. Cut meat into smaller pieces, and then return chicken to the pot.
Add lima beans and corn; cook for 30 minutes longer. Adjust seasoning, adding more salt and pepper, if needed.
Add butter and cayenne. Simmer for 30 minutes.
Ladle into soup bowls, sprinkle with bacon bits.
Edward Lee's Variation: When adding the water and tomatoes, add a ¼ cup of soy sauce and a tablespoon of whole dried Arbol chilis to add a little Asian accent to the dish. If you can't find the whole dried chilis, then add 1 teaspoon of dried chili flakes.
Proceed with the recipe as it is written.
Recipe courtesy KFC.
This recipe was styled by chef Karen Pickus for Good Morning America.
Other Recipes That You Might Like