Colonel Sanders' Meatloaf
Quick and Easy Comfort Food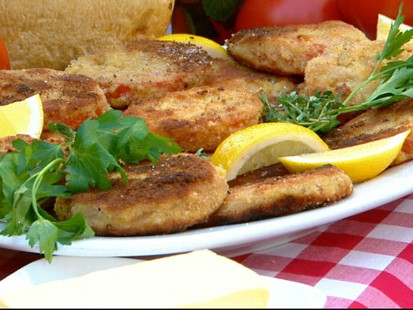 Amy Robach talks to a chef putting a new spin on the colonel's dishes.
From the kitchen of Colonel Sanders
|
Ingredients
3 tablespoons vegetable oil
1 medium onion, minced
1/4 cup (70 g) green pepper, minced
2 pounds (900 g) ground chuck beef
2 eggs, beaten
1 cup (90 g) old fashioned oats, uncooked
3/4 cup (180 mL) tomato juice
1/4 cup (70 g) horseradish
1 tablespoon salt
2 teaspoons paprika
1 teaspoon dry mustard
1/2 cup (140 mL) tomato ketchup
Cooking Directions
Preheat oven to 350° F (175° C).
Heat oil in a 10-inch (25 cm) frying pan over medium-high heat.
Add onions and green peppers and cook until onions soften, about 10 minutes. Set aside to cool.
Combine chuck beef, eggs, oats, juice, horseradish, salt, paprika and dry mustard in a large mixing bowl, add sautéed vegetables and work all the ingredients together with your hands until well incorporated.
Pack this in a 9 by 5-inch (23 by 13 cm) greased loaf pan.
Spread the ketchup on top and bake for one hour.
Recipe courtesy KFC.
This recipe was styled by chef Karen Pickus for Good Morning America.
Other Recipes That You Might Like