Colonel Sanders' Upside Down Peach Cobbler
End Your Meal on a Sweet Note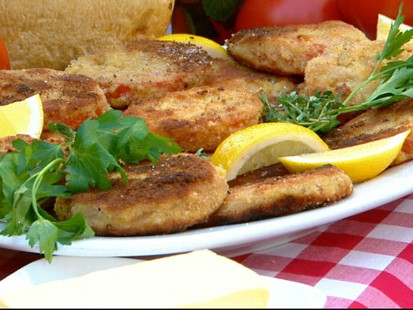 Amy Robach talks to a chef putting a new spin on the colonel's dishes.
From the kitchen of Colonel Sanders
|
Ingredients
1 cup (200 g) sugar (divided use)
2 eggs
1/3 cup (75 g) butter or margarine, melted
1/2 teaspoon vanilla extract
1¹/² cups (180 g) flour
1 teaspoon baking powder
1/4 teaspoon salt
1/2 cup (120 mL) milk
6 to 8 fresh peaches, peeled, seeded and sliced or a
20-ounce (580 g) package of frozen peach slices, thawed
Cooking Directions
Preheat oven to 350° F (175° C).
Beat 2/3 cup (130 g) sugar and eggs together until creamy. Add butter or margarine and continue beating until thoroughly blended. Add vanilla extract.
Combine flour, baking powder and salt in a medium mixing bowl and then add to sugar and egg mixture alternately with milk.
Line an angel food pan with parchment paper. Fill it 2/3 full with peaches.
Sprinkle 1/3 (70 g) cup sugar over the peaches. Pour batter over peaches and spread it evenly until they are well covered.
Bake about 55 to 65 minutes. Cool slightly for 10 minutes and then turn out onto large plate. Serve warm.
Edward Lee's Variation: Use a small 6 inch cast iron skillet to make these cakes. Instead of flipping them over onto a plate, serve them in the cast iron skillets and top the cakes with buttermilk whipped cream (1 cup heavy cream, 1/3 cup buttermilk, 2 tablespoons powdered sugar). Combine all ingredients in a mixer and mix on high until a stiff whipped cream is formed, about 4 – 6 minutes. Keep cool until ready to use.
Recipe courtesy KFC.
This recipe was styled by chef Karen Pickus for Good Morning America.
Other Recipes That You Might Like