French Vanilla Crunchy Peach Pie
Pie of Emeril's Eye Contest Honorable Mention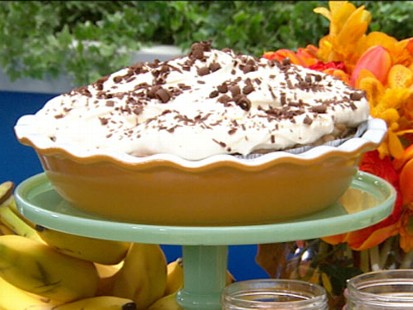 Chef introduces America to final five in his "Pie in Emeril's Eye" contest.
From the kitchen of Connie Moeller
|
This is my mother's original pie crust recipe. She is 91 years old and has made pies all of her life. She taught me how to make this recipe when I was very young. After many trials and errors with peach pie recipes, one day I decided to try the almonds and instant pudding, and this recipe has been a family favorite ever since!
Ingredients
Crust:: 1 1/2 C Crisco Corn Oil
3/4 C cold water
4 1/2 C all purpose flour
pinch
salt
Filling:
7 C fresh or frozen sliced peaches
2 C sugar
1 C flour
4 Tb corn starch
4 Tb instant French Vanilla Pudding mix (unprepared)
1 C toasted slivered almonds
4 Tb cold butter
4 Tb honey
Cooking Directions
Directions: Pre-heat oven 350 degrees For crust, add flour and salt in mixing bowl. In seperate bowl, add 1 1/2 C Crisco Corn oil and 3/4 C cold water. Stir liquids with fork, then combine with dry ingredients (do not over mix). Divide crust into two and roll out. Put bottom crust into ungreased pie dish. Filling -- Add fresh peaches or thawed and drained frozen peaches into pie dish, then sprinkle with almonds. In seperate bowl, add sugar, flour, cornstarch and instant pudding. Mix thoroughly and pour over peaches and almonds. Dot filling with butter and honey. Add top crust, add ventilation cuts, brush with egg wash (beaten egg mixed with dash of water), spinkle with 1 Tb granulated sugar. Bake until crust is browned, 1 - 1 1/2 hours.
Other Recipes That You Might Like