Curried Chicken Quinoa with Peas
Quinoa Doesn't Have to Be Bland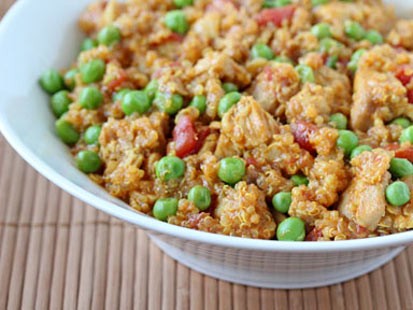 From the kitchen of Erin Chase
|
"It seems that quinoa has been gaining popularity these days, but I often hear people don't know what to make with it, or what they've tried was just too bland. This Curried Chicken Quinoa is packed with flavor, nutrients and you're family will love it. I first made this for my family when my youngest was about 18 months old. I caught him licking his bowl clean! Literally! You can add more or less curry powder, as well as some crushed red pepper flakes if you're looking to "turn up the heat" on the dish too. Whatever suits your family's tastes!"
To purchase a copy of Erin Chase's cookbook, "The $5 Dinner Mom One-Dish Dinners Cookbook" visit her site here.
Ingredients
1 tablespoon extra virgin olive oil ($.05)
1 pound boneless skinless chicken thighs, cut into bite size pieces ($1.99)
1 red onion, chopped ($.40)
2 garlic cloves, crushed ($.05)
1 can (15 ounces) petite diced tomatoes ($.20)
1 Tablespoon curry powder ($.10)
1/2 Tablespoon chili powder ($.05)
1 teaspoon nutmeg ($.10)
1 cup quinoa ($.75)
1 bag (12 ounces) frozen peas ($.80)
Salt and pepper to taste
Cooking Directions
In a large saucepan or Dutch oven, add the olive oil and saute the chicken pieces, chopped onion and garlic for 10 minutes, or until chicken pieces have cooked through.
Stir in the undrained diced tomatoes, curry powder, chili powder and nutmeg. Stir until combined and let cook for about 5 minutes.
Pour in 2 cups of hot water and bring to bubbling. Stir in the quinoa, and return to a rolling boil and then reduce heat to medium low, cover and cook for 20 minutes. With about 5 minutes left to cook, stir in the frozen peas. Turn heat to low and keep warm until ready to serve.
Serve Curried Chicken Quinoa with Peas.
Cost $4.49
Frugal Fact: Stock up on the flavorful boneless, skinless chicken thighs anytime you see their price dip below $2 per pound. Purchase enough to store in your freezer to last until the next sale cycle.
Other Recipes That You Might Like