Daphne Oz's Blueberry Whoopie Pies
Easy, Breezy Summer Dessert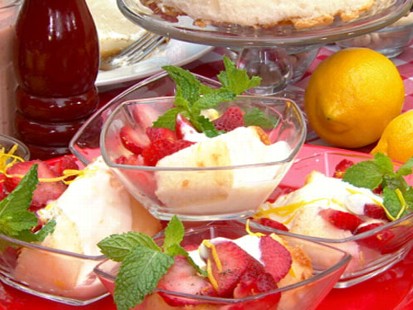 "The Chew" co-host whips up some delicious summer treats.
From the kitchen of Daphne Oz
|
This simple summer dessert is good for on-the-go. Pack them for a picnic lunch!
Ingredients
Ingredients for whoopie cake:
1 cup unbleached all-purpose flour
1/4 cup unsweetened cocoa
1/4 teaspoon of baking soda
1/4 teaspoon of fine salt
4 tablespoons unsalted butter at room temp
1/2 cup granulated sugar
1 large egg
1/2 cup milk
Ingredients for filling:
1 pint mascarpone cheese
1/2 cup confectioner's sugar
1 teaspoon vanilla
1/4 cup blueberry puree strained
pinch of fine salt
Cooking Directions
For the cakes: Arrange the oven rack in the upper and lower 2/3 of the oven and preheat to 425 degrees. Line 2 large baking sheets with parchment paper
Take flower, cocoa, baking soda and salt and whisk together in a medium bowl
Cream butter and sugar in the bowl with electric mixer at high speed until fluffy (about 4 min) Add egg and milk and beat at medium speed until incorporated. At low speed add the flower mixture in 2 batches, alternating with the milk, mixing until just blended
Using a half tablespoon measure, drop 18 generous teaspoons of batter onto each sheet, leaving about 2 inches between each cake. Bake both sheets at the same time for about 5 to 7 minutes, until springy to the touch. Let cool on the sheets for 5 minutes then transfer to racks to cool completely.
For the filling: Beat together mascarpone, confectioners sugar, salt and vanilla in a bowl with an electric mixer at medium speed until smooth for about 3 minutes. Fold in blueberry puree.
Spread filling on half of the cakes. Sandwich together and serve!
For the blueberry puree: Pulse a pint of blueberries in a blender or food processor until pureed. Strain mixture with a strainer or cheese cloth
Recipe courtesy Daphne Oz.
This recipe was styled by chef Karen Pickus for Good Morning America.
Other Recipes That You Might Like