Daphne Oz's Browned Butter Whole Wheat Blueberry Muffins
Try These Healthy Morning Energizers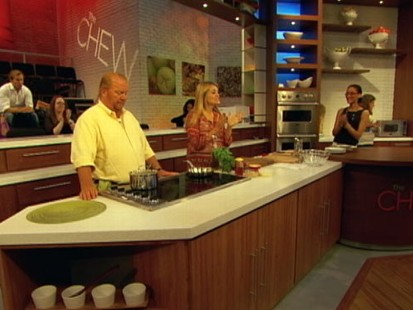 Josh Elliott goes backstage of ABC's new show that premieres Sept. 26.
From the kitchen of Daphne Oz
|
These morning muffins are a great on the go breakfast. Try them today!
Ingredients
For Muffins:
3 1/2 oz. unsalted butter
(sub: 2oz stick butter & 2oz applesauce)
1/3 cup whole milk
(sub: 1/4 cup yogurt & 1/4 cup milk)
2 eggs
1 tsp. vanilla extract
3/4 cup all purpose flour
3/4 cup whole wheat flour
3/4 cup granulated sugar
(sub: 1/2 cup sugar, 1/4 cup maple syrup)
1 1/2 tsp baking powder
3/4 tsp salt
2 cups fresh blueberries
For Topping (optional):
1 1/2 tbsp unsalted butter
(sub: 1 1/2 tbsp coconut oil)
1/4 cup all purpose flour
(sub: 1/4 cup spelt flour)
4 Tbsp dark brown sugar, packed
2 Tbsp oatmeal, coarsely chopped
Cooking Directions
For muffins:
Pop blueberries in the freezer about 10 minutes before you begin so they won't stain the batter when folding in.
Preheat the oven to 375°F and put rack in upper third. Grease muffin tin with residual brown butter from pan, or line with cups.
Melt the butter or coconut oil in a small saucepan over medium high heat. Cook it down until the color begins to change, being careful to remove from heat when it darkens but is not burnt.
Whisk the milk, eggs and vanilla in a small bowl, then add the butter and whisk to combine.
In a large bowl, stir the flours, sugar, baking powder and salt. Add the butter and egg mixture all at once and gently fold in.
Add your slightly frozen blueberries, being careful not to over mix, and divide mixture equally among your muffin cups.
To make the topping:
Place all ingredients in a bowl and use your fingers to rub them together. Crumble over the muffins and bake for 20-25 minutes.
Cool in muffin tin 10-15 minutes before removing to cooling rack.
This recipe was styled by chef Karen Pickus for Good Morning America.
Recipe courtesy Daphne Oz.
Other Recipes That You Might Like