Daphne Oz's Cheesy 'Pizza' Broccoli
A Perfect Vegetarian Main Dish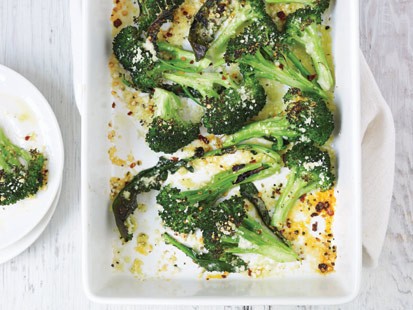 From the kitchen of Daphne Oz
|
This is one broccoli dish that has kids and grown-ups alike demanding seconds. Tastes like pizza, acts like health food! It makes a perfect side or vegetarian main with a nice grain to go alongside.
Ingredients
1 head of broccoli
2 tablespoons olive oil
6 tablespoons grated pecorino or Parmesan cheese
1/2 to 1 teaspoon dried chile flakes
1 teaspoon dried oregano
Juice of 1/2 lemon
Sea salt and fresh-cracked black pepper
Cooking Directions
Steam the broccoli whole for a lovely presentation, or speed the process along by breaking or cutting into bite-size florets. Steam the broccoli until you can easily insert a knife into the center of the broccoli head (about 20 minutes) or a fork into the larger florets (5 to 6 minutes).
Preheat the broiler. Drain the broccoli and place it in a baking dish. Drizzle it with the oil, and sprinkle it with cheese, chile flakes, and oregano. Broil the broccoli until the cheese is golden brown, 2 to 3 minutes. Squeeze some lemon juice onto the broccoli, season with salt and pepper to taste, and serve.
Courtesy of William Morrow an imprint of HarperCollins Publishers
Other Recipes That You Might Like