Daphne Oz's Ratatouille
Simple and Healthy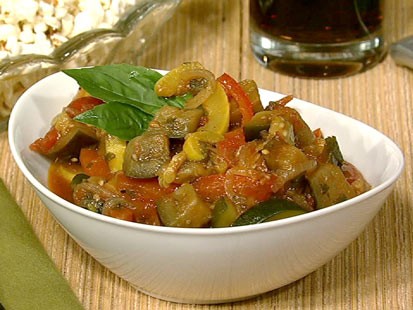 From the kitchen of Daphne Oz
|
Ingredients
1 28-oz. can San Marzano Tomatoes, drained and chopped
1/3 Cup Olive Oil, plus more to brush
2 large Onions, diced
3 Bell Peppers - 1 Yellow, 1 Orange, 1 Red
1 bunch Flat Leaf Parsley, chopped
8 Garlic Cloves, sliced
1/2 Tsp Crushed Red Pepper Flakes
1 large Eggplant, cut into 1/2-inch thick rounds
2 Zucchini, cut into spears
2 Yellow Squash, cut into spears
Salt
Freshly Ground Pepper
Parmigiano Reggiano
Fresh Basil Leaves
Cooking Directions
In a large dutch oven, heat 1/3 cup olive oil, then add the onions and peppers. Once softened, about 5 minutes, add the garlic, a pinch of red pepper flakes, and parsley. Cook for about 2 minutes, and then add the tomatoes and a pinch of salt. Allow everything to cook down slightly for about 15 minutes.
Meanwhile, brush the zucchini, squash, and eggplant with olive oil. Preheat a grill or grillpan to medium high. Grill the zucchini, squash and eggplant until charred and tender, about 4 minutes per side. Roughly chop.
Add to the tomato mixture, and stir to mix. Check seasonings, and allow to cook down and allow the flavors to marry, about 30 minutes. Can be served warm or room temperature. Garnish with fresh basil leaves and parmigiano reggiano.
Serve ratatouille with roasted chicken or lamb, or a hearty slice of crusty bread.
Recipe courtesy The Chew.
Other Recipes That You Might Like