Daphne Oz's Stuffed Artichokes
Courtesy of "The Chew"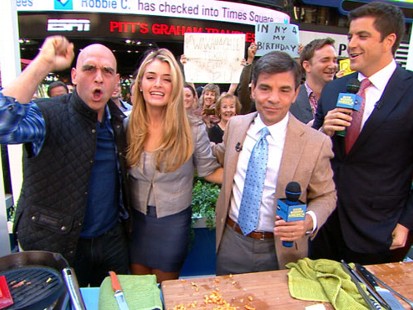 Team Robin faces Team George to cook with mystery ingredients in five minutes.
From the kitchen of Daphne Oz
|
These artichokes are full of breadcrumbs and cheese- what's not to love? For more great recipes visit The Chew's site.
Ingredients
2 cup Italian Bread Crumbs
1 cup Locatelli Cheese (finely grated)
2 Large Cloves Garlic (minced)
1 teaspoon Dried Oregano
6 Artichokes
1/2 cup Chicken Broth
1/4 cup Olive Oil
Salt
Pepper
Cooking Directions
Cut off tops and stems of artichokes, and steam for 30 minutes, until fork tender. Mince one of the stems.
Preheat oven to 350F.
In a bowl, mix together bread crumbs, cheese, garlic, minced artichoke stems, oregano, olive oil, chicken stock and a teaspoon of salt. In a roasting pan, arrange artichokes upright. Stuff with the breadcrumb mixture, and drizzle with olive oil to moisten filling.
Roast for 30 minutes, until filling is golden and cooked through. Turn on broiler. Broil for 1-2 minutes, until bread crumbs are browned and crisp.
Recipe courtesy Daphne Oz.
Other Recipes That You Might Like