Daphne Oz's Summer Succotash
Guilt-Free Summer Meal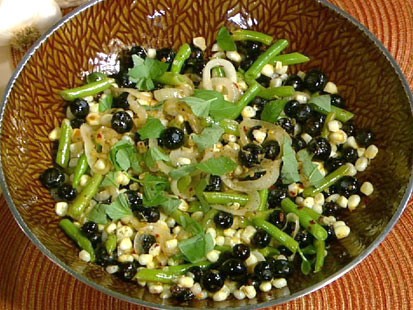 From the kitchen of Daphne Oz
|
Ingredients
1/4 pound green beans, cut into thirds
2 cups corn
1 spring onion, sliced into thin rounds
1/4 cup basil leaves, chiffonade
1 pint blueberries
1/4 cup extra virgin olive oil
2 tablespoon white wine vinegar
1/2 teaspoon crushed hot red chili flakes
salt and freshly ground pepper
1/2 cup hazelnuts, chopped
Cooking Directions
Toast hazelnuts in a small saute pan and set aside.
In a large sauté pan over medium heat, heat the two tablespoons olive oil. Add the onions, green beans, and saute until green beans, corn, and onion have softened.
In a mixing bowl add the corn, olive oil, and white wine vinegar. Remove onion and green bean mixture from heat and transfer into bowl with corn. Season with salt and pepper. Add the red chili flakes, basil and blueberries and toss to combine.
Recipe courtesy The Chew.
Other Recipes That You Might Like