Taste of Home's Dark Chocolate Raspberry Fudge
Food Is Love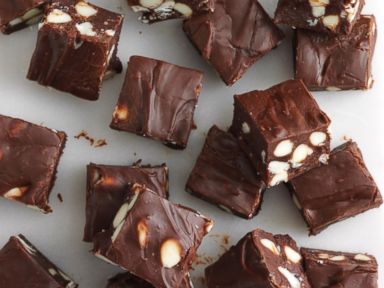 From the kitchen of Taste of Home
|
Valentine's Day may be about love -- but it's also about chocolate. Find out what we mean and fall in love with this Dark Chocolate Raspberry Fudge from Taste of Home.
Ingredients
1 package (10 to 12 ounces) white baking chips
1 teaspoon butter, softened
3 cups dark chocolate chips
1 can (14 ounces) sweetened condensed milk
1/4 cup raspberry liqueur
1/8 teaspoon salt
Cooking Directions
Place baking chips in a single layer on a small baking sheet. Freeze 30 minutes. Line a 9-in.-square pan with foil; grease foil with butter.
In a large microwave-safe bowl, combine dark chocolate chips and milk. Microwave, uncovered, on high for 2 minutes; stir. Microwave in additional 30-second intervals, stirring until smooth. Stir in liqueur and salt. Add white baking chips; stir just until partially melted. Spread into prepared pan. Refrigerate 1 hour or until firm.
Using foil, lift fudge out of pan. Remove foil; cut fudge into 1-in. squares. Store in an airtight container in the refrigerator.
Note: This recipe was tested in a 1,100-watt microwave.
Recipe courtesy of Taste of Home's February/March 2014 issue, available on newsstands now.
Other Recipes That You Might Like