Dinosaur Bar-B-Que's Dinosaur Ribs
Game Day Grub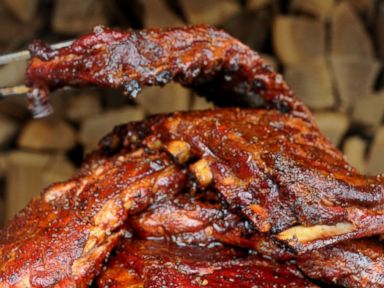 From the kitchen of Dinosaur Bar-B-Que
|
Dinosaur Bar-B-Que has been feeding 'cue to hungry New Yorkers for years. We got them to share the recipe for their legendary Dinosaur ribs here.
Ingredients
2 racks of pork spareribs, St. Louis cut (2 1/2 to 3 pounds)
1/2 cup of All-Purpose Red Rub (recipe below)
Mop Sauce (recipe below)
Mutha Sauce (recipe below)
Cooking Directions
Cooking the ribs: Preheat oven to 250F. Put a wire rack over a jelly roll pan and pour 1 cup of water into the pan. Set the ribs (seasoned with just enough Red Rub to coat) on the rack, meaty side up. Slide them into the oven and roast slowly. Come back to check on the ribs in about 45 minutes. Then check on things once every hour. If the ribs are looking a bit thirsty, mop lightly with the Mop Sauce. The ribs should be done after 2 1/2 to 3 hours (they will be done if you can gently tear the meat between the bones, or reach an internal temperature of at least 180F.) Once you've determined that they're done, get out the Mutha Sauce and pick a finishing touch (see below).
Finishing Touches:
Glaze -- low temperature method -- brush with Mutha Sauce and let them cook for 20 minutes longer

Caramelize -- crank the heat up to high (broiler) -- let the ribs cook until they are nicely bronzed and colored, then brush with the Mutha Sauce.
Serving: Let ribs rest for 5-10 minutes before slicing them into portions. Enjoy!!
Dinosaur Bar-B-Que Mutha Sauce
1/4 cup vegetable oil
1 cup minced onion
1/2 cup minced green pepper
1 jalapeno pepper, seeded and minced
Pinch each of kosher salt and black pepper
2 tablespoons minced garlic
1 can (28 ounces) tomato sauce
2 cups ketchup (preferably Heinz)
1 cup water
3/4 cup Worcestershire sauce
1/2 cup cider vinegar
1/4 cup lemon juice
1/4 cup molasses
1/4 cup cayenne pepper sauce
1/4 cup spicy brown mustard
3/4 cup dark brown sugar, packed
1 tablespoon chili powder
2 teaspoons coarsely ground black pepper
1/2 teaspoon ground allspice
1 tablespoon Liquid Smoke (optional)
Pour the oil into a large saucepan and set over medium-high heat. Toss in the onions, green peppers, and jalapenos and give them a stir. Season with a pinch of salt and pepper and cook til soft and golden. Add the garlic and cook for 1 minute more. Dump in everything else except the Liquid Smoke. Bring to a boil, then lower the heat so the sauce simmers. Simmer for 10 minutes. Swirl in the Liquid Smoke and let the sauce cool. Pour it into a container, cover, and store in the fridge til ready to use. Makes 6 to 7 Cups.
Mop Sauce:
1 cup of white vinegar
1/2 cup of water
2 tablespoons vegetable oil
2 tablespoons of Worcestershire sauce
2 tablespoons All-Purpose Red Rub (recipe below)
Tabasco Sauce
Throw everything together in a saucepan and bring to a boil. Cool, pour into a plastic container, cover and refrigerate for later use. Makes 1 3/4 cups.
Red Rub:
1/2 cup of paprika
1/2 cup of kosher salt
1/2 cup of brown sugar
1/2 cup of granulated garlic
6 tablespoons of granulated onion
1/4 cup of chili powder
1 tablespoon black pepper
1 teaspoon ground cumin
1/2 teaspoon cayenne pepper
Dump all the ingredients into a bowl and rub them together with your hands. Store in a plastic or glass container til ready to use. Makes 2 3/4 cups total.
Other Recipes That You Might Like