Mario Batali's Eggs in Hell
New Year Noms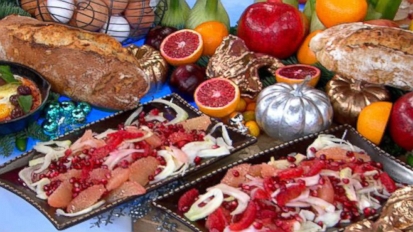 The celebrity chef whips up some of his favorite dishes.
From the kitchen of Mario Batali
|
Celebrity chef and "The Chew" co-host Mario Batali runs a global restaurant empire for a reason—the man makes good food. Start your New Year off right with one of his recipes for eggs in hell.
Ingredients
2 tablespoons extra-virgin olive oil, plus more for drizzling
1/2 red onion, thinly sliced
2 Serrano chiles, thinly sliced
3 cups Basic Tomato Sauce
6 eggs
3-4 basil leaves
1/2 cup Gaeta olives, pitted but left whole
1/4 cup freshly grated Cacio di Roma cheese
Coarse sea salt, to taste
Freshly ground pepper, to taste
Serve with Crusty Bread
Cooking Directions
In a 12- to 14- inch cast iron skillet, combine olive oil, onion and chilis and cook over medium heat until just wilted, about 1 minute to keep some bite to the onions and freshness to the chiles.
Add tomato sauce, and bring it to the boil. Then turn the heat down to a simmer.
Carefully crack the eggs into the pan, keeping them whole and separated. Cook until the whites have set but the yolk is still runny, 4 to 5 minutes. Season with salt and pepper.
The eggs can be served at the table directly from the skillet. Serve the eggs with a few Gaeta olives strewn over top. Tear the basil leaves and sprinkle them over the eggs with freshly grated cheese and a tiny drizzle of extra-virgin olive oil.
Recipe courtesy of Mario Batali.
This recipe was styled by chef Karen Pickus for Good Morning America.
Other Recipes That You Might Like