Elizabeth Karmel's Classic Pumpkin Pie
From Hill Country's Executive Chef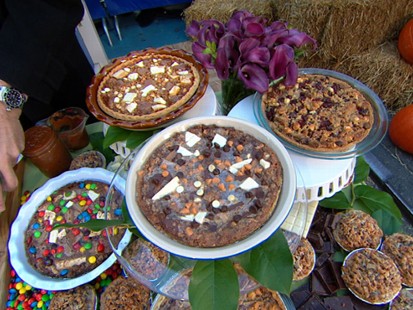 Hill Country Chicken's Elizabeth Karmel prepares various pies for Thanksgiving dessert.
From the kitchen of Elizabeth Karmel
|
Try Elizabeth Karmel's classic pumpkin pie recipe. Serve with her homemade bourbon whipped cream.
Ingredients
1 can (15 oz) Libby's 100% pure pumpkin
1 1/2 cups half and half
3/4 cup granulated white sugar
1/4 cup maple syrup
2 large eggs, lightly beaten
3 teaspoons pumpkin pie spice (see below)
1/4 teaspoons fine-grain sea salt
For the pumpkin pie spice:
2 1/2 teaspoon cinnamon
1 teaspoon ginger
1 teaspoon nutmeg
1/2 teaspoon cloves
Cooking Directions
Preheat: oven 350 degrees F
Combine pumpkin, half and half, granulated sugar, maple syrup, eggs, pumpkin pie spice and salt in medium bowl; mix well. Pour into pie shell.
Bake for 20 minutes and check on pie. Rotate if necessary and bake for 20 to 30 more minutes or until knife inserted near center comes out clean. Cool on wire rack.
Serve with Bourbon Whipped Cream.
For the bourbon whipped cream:
To make bourbon whipped cream, add 1 tablespoon super-fine sugar, a pinch of sea salt and 2 tablespoons bourbon to a pint of cream as it is being whipped. Beat until stiff and serve immediately. Refrigerate any unused cream.
Recipe courtesy Elizabeth Karmel, executive chef, Hill Country Chicken and Hill Country Barbecue Market.
This recipe was styled by chef Karen Pickus for Good Morning America.
Other Recipes That You Might Like