Elizabeth Karmel's White Shoepeg Corn Pudding
A Rich and Crowd-Pleasing Side Dish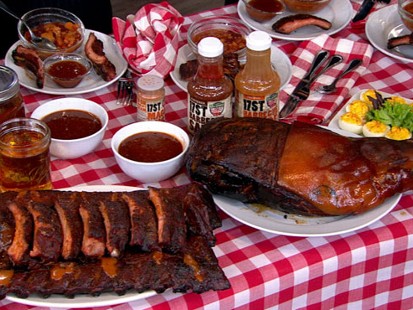 BBQ experts compete in wet sauce vs. dry rub rivalry, scrumptious sides for summer.
From the kitchen of Elizabeth Karmel
|
This crowd-pleasing corn pudding recipe is a rich side dish for your next barbecue.
Ingredients
8 cups frozen white shoepeg corn, thawed, par-cooked and divided (see below)
2 cups heavy cream
2 eggs
1 teaspoon sugar
½ teaspoon sea salt
1/2 teaspoon ground white pepper
1/8 teaspoon cayenne
¼ teaspoon freshly grated nutmeg
¼ cup freeze-dried chopped chives
3 tablespoons butter, melted
1 cup finely chopped shallot
2 cups finely shredded reduced fat (skim-milk) cheddar and Monterey Jack cheese
Cooking Directions
Preheat oven to 350 degrees.
Partially cook and drain 8 cups (or 32 ounces) of frozen corn. Reserve 2 cups and place the remaining 6 cups in a large food processor fitted with a steel blade. Puree the 6 cups of the white corn. Add the cream, process until smooth and add the eggs, process again until completely combined.
Mix sugar, sea salt, white pepper, cayenne and nutmeg together in a small bowl. Add spices to corn and cream mixture and process until combined. Add chives and process again until completely mixed and smooth. Set aside.
Meanwhile, melt butter in a heavy-bottomed sauté pan. When butter begins to bubble, add shallots, sauté until they are just beginning to brown and they are translucent. Add reserved corn to sauté pan and heat through. Mix the corn and the shallots together. Pour the cream and corn puree in a large bowl. Add the warm corn and shallots and mix well. Stir in the cheese and mix well.
Pour into buttered 9x13x2 baking dish set into a sheet pan filled with water (water bath). Bake for 1 hour or until set and slightly golden on top.Serve hot or warm.
Serves 14-16
Recipe courtesy Elizabeth Karmel, executive chef, Hill Country Chicken and Hill Country Barbecue Market.
This recipe was styled by chef Karen Pickus for Good Morning America.
Other Recipes That You Might Like