Emeril's Sweet and Tangy Coleslaw
Try This Spin on the Traditional Side Dish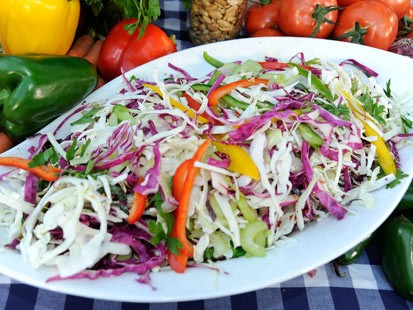 From the kitchen of Emeril Lagasse
|
Ingredients
1 1/3 cups sugar
1 cup white vinegar
2 1/2 pounds cabbage, cored and shredded
2 cups finely chopped celery
3 medium carrots, shredded
1 green bell pepper, stemmed, seeded, and finely chopped
2/3 cup finely chopped onion
1 teaspoon celery seeds
1 teaspoon mustard seeds
Salt and freshly ground black pepper, to taste
Emeril's Original Essence or Creole Seasoning, to taste
For the Creole Seasoning:
2 1/2 tablespoons paprika
2 tablespoons salt
2 tablespoons garlic powder
1 tablespoon black pepper
1 tablespoon onion powder
1 tablespoon cayenne pepper
1 tablespoon dried oregano
1 tablespoon dried thyme
Cooking Directions
1. Combine the sugar and vinegar in a small saucepan and heat, stirring occasionally, until the sugar has dissolved. Set aside to cool completely.

2. Assemble all the vegetables, the celery seeds, and the mustard seeds in a large nonreactive mixing bowl, and pour the cooled sugar-vinegar mixture over all. Toss well to combine, cover with plastic wrap, and refrigerate overnight.

3. When ready to serve, season the coleslaw with salt, freshly ground black pepper, and Essence to taste. Toss thoroughly to combine.

Yield: 8 servings

For the Creole Seasoning: Combine all the ingredients thoroughly.
Yield: About 2/3 cup
Recipe courtesy Emeril Lagasse, Emeril at the Grill, HarperStudio Publishers, New York, 2009, courtesy Martha Stewart Living Omnimedia, Inc.
This recipe was styled by chef Karen Pickus for Good Morning America.
Other Recipes That You Might Like