Emeril Lagasse's Apple Betty
A terrific bite when you're craving apple pie!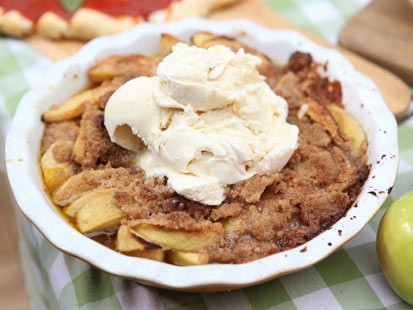 From the kitchen of Emeril Lagasse.
|
This recipe is a terrific replacement for a full-size apple pie and is absolutely delicious served with a scoop of vanilla ice cream. Plus, you can even cook it in the toaster oven!
Ingredients
4 cups sliced Granny Smith apples ( 2-3 apples, peeled and cored)
2 tablespoons orange juice
3 tablespoons (packed) light brown sugar
¼ cup plus 2 tablespoons gluten free all purpose flour blend (we've used Arrowhead Mills Gluten Free All Purpose Baking Mix)
½ cup granulated sugar
½ teaspoon ground cinnamon
pinch of ground nutmeg
4 tablespoons ( ½ stick) unsalted butter, softened
Vanilla Ice Cream, for serving (optional)
Cooking Directions
1. Preheat the oven to 375 Degrees F.
2. In a medium-size bowl, toss the apples with the orange juice and 1 tablespoon of the brown sugar to coat well.
3. Pour the apple mixture into an ungreased 9-inch deep-dish pie plate and set aside.
4. In another bowl, combine the flour blend, granulated sugar, remaining 2 tablespoons brown sugar, cinnamon, and nutmeg. Using a fork, cut into the softened butter, creating crumbly clumps.
5. Once all the flour mixture is incorporated into the crumbles, gently spoon the crumbles on top of the apples in the pie plate. Try to spread the mixture evenly over the entire surface.
6. Bake for 40 to 50 minutes, or until the apples are fork tender and the crumbles are browned.
7. Serve warm, with vanilla ice cream, if desired.
This recipe was styled by chef Karen Pickus for Good Morning America.
Recipe courtesy Emeril, Jilly and Jessie Lagasse. Copyright MSLO, Inc., all rights reserved
Other Recipes That You Might Like