Emeril Lagasse's Flourless Chocolate and Almond Cake
Sheer decadence. Serve with whipped cream and raspberries and enjoy!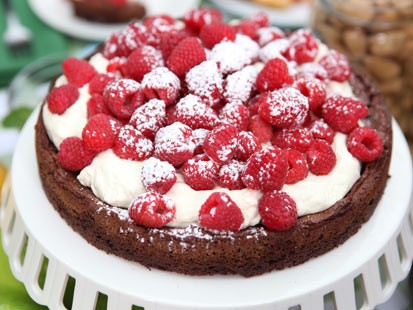 From the kitchen of Emeril Lagasse
|
This is sheer decadence. A rich and chocolate-y cake with the hint of almond running through, we love topping this cake with a heaping of freshly whipped cream, gorgeous raspberries and just a light dusting of powdered sugar.
Ingredients
4 ounces good quality dark chocolate with at least 67 % cocoa solids
6 tbsp. butter, unsalted
¾ cup sugar, finely granulated
2 eggs, lightly whisked
½ tsp. all natural vanilla extract
¼ cup + 2 tbsp. ground almonds (almond flour)
½ heaped tsp. gluten free baking powder
Topping: (optional)
Freshly whipped cream
Fresh raspberries
Confectioner's sugar and a small sieve for dusting
Cooking Directions
1. Pre-heat oven to 350 Degrees Fahrenheit.
2. Lightly grease the cake tin and line the bottom with a piece of parchment paper cut to fit the tin.
3. Using a double broiler, melt the chocolate of low heat and simmering water. Do this by placing a heatproof glass bowl over a small saucepan of simmering water. Once melted take off heat immediately and set aside.
4. In a bowl, cream the butter and sugar together until light and fluffy by using a hand held electric mixer or beaters.
5. Add the eggs and vanilla extract into the bowl and gently beat for 1 minute till well incorporated.
6. Slowly and gently fold in the melted chocolate to the butter mixture till well combined.
7. Add the dry ingredients into the wet ingredients and mix the batter well.
8. Pour the batter into the prepared tin and bake for 28 - 30 minutes or until when a skewer is inserted it wipes clean. It should be firm in the middle, not jiggly.
9. Leave to cool in the tin completely. Don't panic if the center of cake concaves a bit once cooled.
10. Once fully cooled, hold a plat over the top of cake and gently flip over to expose the parchment-lined bottom of the cake.
11. Gently peel off and dispose of the parchment paper.
12. Take another plate or a serving platter and holding it against the bottom of the cake, flip again so the top of the cake is upright.
13. Place in fridge for 30 minutes to an hour to allow cake to firm up and set.
14. Top with a heaped amount of freshly whipped cream, fresh raspberries and a dusting of confectioner's sugar. (Optional)
15. Keep in fridge till ready to serve.
This recipe was styled by chef Karen Pickus for Good Morning America.
Recipe courtesy Emeril, Jilly and Jessie Lagasse. Copyright MSLO, Inc., all rights reserved
Other Recipes That You Might Like