Emeril Lagasse's Mushroom and Fall Squash Barley Risotto
Try This Hearty Risotto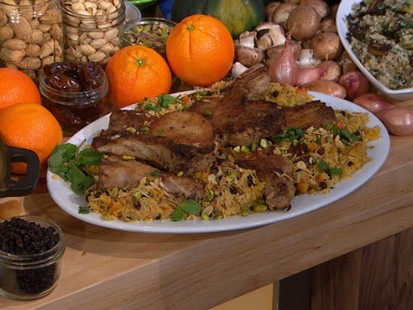 Emeril Lagasse prepares one-pot wonders from his new book, "Sizzling Skillets."
From the kitchen of Emeril Lagasse
|
Barley's chewy texture offers a nice alternative to the typical Arborio rice used in most risotto and also happens to offer more nutritional value. Here sautéed baby bella mushrooms and acorn squash enhance barley's wonderful, earthy flavor.
Ingredients
5 tablespoons unsalted butter
2 tablespoons grape seed or canola oil
½ cup finely chopped shallot
1 ½ cups pearled barley
1 ½ teaspoons salt
½ teaspoon freshly ground black pepper
¼ cup dry white wine
¾ pound baby bella mushrooms, stems trimmed, sliced 1/8 inch thick
12 ounces acorn squash, peeled, seeded, and diced
4 cups chicken stock or canned low-sodium chicken broth
2 tablespoons chopped fresh parsley
1 tablespoon chopped fresh sage
¾ cup finely grated Parmigiano-Reggiano cheese
Cooking Directions
Heat 1 tablespoon of butter and 1 tablespoon of the oil in a 12 inch sauté pan over medium-high heat. When hot, add the shallot and cook, stirring until tender, 1 to 2 minutes. Add the barley, salt and pepper and cook for 1 minute. Pour in the white wine and cook, stirring until the wine is evaporated, 1 to 2 minutes.
Add 2 tablespoons of the remaining butter and the remaining 1 tablespoon oil to the sauté pan over medium-high heat. Add the mushrooms and cook until lightly browned and wilted and the fat has been absorbed, 4 to 5 minutes.
Add the mushrooms, squash, and stock to the slow cooker. Stir gently to combine. Set the slow cooker to low and cook until the liquid is absorbed and the barley and squash are tender, 2.5 to 3 hours, stirring occasionally to ensure that all the grains are evenly cooked. Remove the lid and stir in the parsley, sage, ½ cup of Parmesan, and the remaining 2 tablespoons butter. Serve the risotto hot, garnished with the remaining cheese and additional pepper if desired.
This recipe was styled by chef Karen Pickus for Good Morning America.
Recipe courtesy of Emeril Lagasse.
Other Recipes That You Might Like