Emeril's Braised Apples, Roasted Acorn Squash and Fresh Thyme
A Hearty Winter Side Dish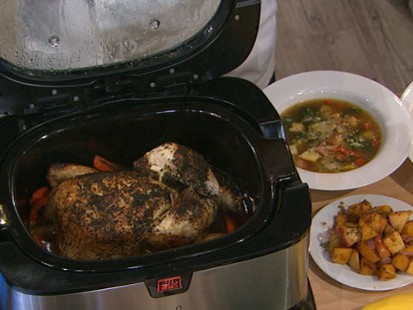 Emeril Lagasse prepares his garden vegetable soup and chicken in a pot.
From the kitchen of Emeril Lagasse
|
The squash is roasted with cinnamon and nutmeg for a delicious winter comfort food.
Ingredients
2 3/4 pounds acorn squash, peeled (see Note), halved, seeded, and cut into roughly 1/2-inch dice
(about 4 cups)
3 tablespoons butter, melted
1/2 teaspoon ground cinnamon
1/4 teaspoon ground nutmeg
1/2 teaspoon salt
2 tablespoons butter
1/3 cup diced red onion (small dice)
1/4 teaspoon freshly ground white pepper
2 Fuji or Gala apples, cut into roughly 1/2-inch dice (about 2 cups)
1/2 cup chicken stock or canned low-sodium chicken broth
1 teaspoon chopped fresh thyme
Cooking Directions
Preheat the oven to 450°F. Line a small baking sheet with parchment paper.
In a medium bowl, toss the squash with the melted butter, cinnamon, nutmeg, and ¼ teaspoon of the salt. Transfer the squash to the prepared baking sheet, and roast in the oven for 15 minutes, or until golden and fork-tender. Remove from the oven and set aside to cool for at least 5 minutes.
Heat the 2 tablespoons butter in a small saucepan over medium-high heat. Add the onion, the remaining ¼ teaspoon salt, and the pepper and cook until the onion is soft, about 2 minutes. Add the diced apples and the chicken stock, and bring to a simmer. Cook for 5 minutes, or until the apples are barely tender. (Don't cook the apples too long—you want them to retain their shape.) Remove from the heat.
In a medium mixing bowl, combine the roasted squash, the thyme, and the braised apples with their
cooking liquid. Toss gently to combine, and serve warm.
Recipe courtesy Emeril Lagasse, from Farm to Fork: Cooking Local, Cooking Fresh, HarperCollins Publisher, 2010, copyright MSLO, Inc., all rights reserved
This recipe was styled by chef Karen Pickus for Good Morning America.
Other Recipes That You Might Like