Home
>
GMA
>
Recipes Home
>
Emeril's Breakfast Bread Pudding with Italian Sausage, Zucchini and Bell Peppers
Emeril's Breakfast Bread Pudding with Italian Sausage, Zucchini and Bell Peppers
A Yummy Bread Pudding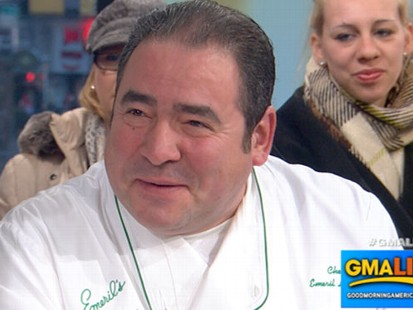 Emeril stops by 'GMA Live' to talk about the Mother's Day tradition.
From the kitchen of Emeril Lagasse
|
Try this breakfast bread pudding with Italian sausage from Emeril.
Does your mom or a mother you know deserve breakfast in bed cooked by chef Emeril Lagasse this Mother's Day? Enter now!
Ingredients
1 tablespoon vegetable or olive oil, plus more for greasing the pan
1 pound fresh Italian sausage, removed from casings and crumbled
1 1/2 cups small- diced onion
3/4 cup small- diced red bell pepper
1 pound zucchini, sliced into 1/4- inch half- moons
1 1/2 teaspoons salt
1 tablespoon chopped fresh marjoram leaves
1 tablespoon chopped fresh oregano leaves
1 tablespoon chopped fresh parsley leaves
1 pound seeded Italian bread, cut into 1/2- inch cubes (about 8 cups)
12 ounces fontina cheese, grated
2 ounces Parmigiano- Reggiano cheese (about 3/4 cup), finely grated
10 eggs
2 cups half- and- half
1 cup chicken stock or canned low- sodium chicken broth
1/2 teaspoon freshly ground black pepper
Cooking Directions
Preheat the oven to 350°F. Lightly grease a 9 × 13-inch baking dish with oil and set aside.
Heat a 12- inch sauté pan over medium heat. Add the sausage and cook, stirring and breaking the meat into small pieces, until lightly browned, 8 to 9 minutes. Transfer to a paper towel– lined plate to drain.
Add 1 tablespoon oil to the same pan and increase the heat to medium- high. Add the onion, bell pepper, zucchini, and 1/4 teaspoon of the salt and cook, stirring occasionally, until the vegetables are just tender, about 4 minutes. Add the herbs and stir to combine. Transfer to a plate to cool.
In a medium mixing bowl, combine the cooled sausage and vegetables and stir gently to mix well.
Spread 4 cups of the bread cubes in the bottom of the prepared baking dish. Top with half of the sausage- vegetable mixture. Sprinkle with half of the fontina and half of the Parmesan. Repeat with the remaining bread, sausage- vegetable mixture, and cheeses.
In a medium mixing bowl, whisk the eggs, half- and- half, stock, pepper, and remaining 11/4 teaspoons salt. Pour the egg mixture evenly over the top of the casserole, making sure you cover as much of the bread as possible.
Bake the casserole until cooked through, the cheese has melted, and the top is golden and a nice crust has formed, about 1 hour. Set the casserole aside to rest for about 10 minutes before serving.
10 to 12 servings
Recipe courtesy Emeril Lagasse, from Sizzling Skillets and Other One Pot Wonders, HarperCollins Publisher, New York, 2011, copyright MSLO, Inc., all rights reserved
This recipe was styled by chef Karen Pickus for Good Morning America.
Other Recipes That You Might Like