Emeril's Chewy Ginger Cookies
Perfect for the Next Cookie Swap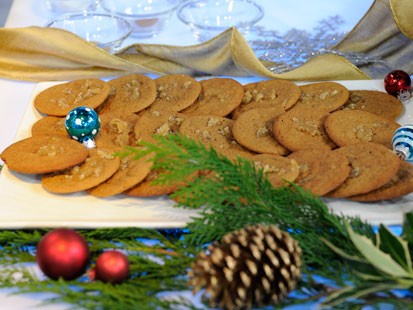 From the kitchen of Emeril Lagasse
|
Try Emeril Lagasse's chewy ginger cookie recipes. Bring them to a cookie swap or enjoy them with your family.
Ingredients
2 cups all-purpose flour
1 teaspoon baking soda
1 1/2 teaspoons ground ginger
¼ teaspoon ground cinnamon
¼ teaspoon ground cardamom
1/8 teaspoon sea salt
12 tablespoons (1 1/2 sticks) unsalted butter, at room temperature
1/2 cup packed dark brown sugar
1/2 cup granulated sugar
¼ cup unsulphured molasses
1 large egg
2 teaspoons vanilla extract
3 tablespoons candied ginger
Cooking Directions
In a medium bowl, sift together the flour, baking soda, ginger, cinnamon, cardamom, and sea salt. Set aside.
In the bowl of a standing mixer fitted with the paddle attachment, combine the butter with the dark and granulated sugars on medium speed until light and fluffy. Turn the machine off, add the molasses, and then beat until fully incorporated. Add the egg and vanilla, scraping down the sides of the bowl as necessary, and continue to beat until blended. Reduce the mixer speed to low and add the flour mixture, one-third at a time, beating until blended. Transfer the dough to a piece of parchment paper, and roll it to form a 2-inch-wide cylinder. Refrigerate, covered with parchment, for at least 30 minutes and up to overnight.
Position a rack in the center of the oven, and preheat the oven to 350°F. Line two baking sheets with parchment paper.
Using a spice grinder, process the candied ginger until it is granulated (or finely mince it using your knife). Set aside.
Slice the dough into ¼-inch-thick rounds, and place them on the prepared baking sheets. Sprinkle the cookies with the candied ginger. Bake, one sheet at a time, for 10 to 12 minutes. Remove the cookies from the oven, transfer them to a wire rack, and cool completely.
This recipe was styled by chef Karen Pickus for Good Morning America.
Recipe courtesy Emeril Lagasse, adapted from Emeril's Kicked-Up Sandwiches: Stacked with Flavor, HarperCollins Publisher, New York, 2012, copyright MSLO, Inc., all rights reserved
Other Recipes That You Might Like