Emeril's Chocolate Wafers with Peanut Butter Fudge
Fudgy, Crunchy Cookies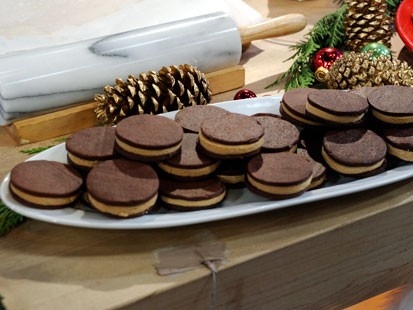 From the kitchen of Emeril Lagasse
|
Try these chocolate wafers with peanut butter fudge from Emeril. This recipe makes 18 cookies.
Ingredients
For the chocolate wafers:
1 3/4 cups all-purpose flour
1/2 cup unsweetened Dutch-process cocoa powder, sifted
1 teaspoon baking powder
12 tablespoons (1 1/2 sticks) unsalted butter, at room temperature
3/4 cup granulated sugar
1 large egg
2 teaspoons vanilla extract
Peanut butter fudge
1 1/2 cups creamy peanut butter
1 1/2 cups marshmallow creme
1/3 cup confectioners' sugar
2 teaspoons vanilla extract
Cooking Directions
To make the chocolate wafers: In a medium mixing bowl, combine the flour, cocoa powder, and baking powder, and whisk to blend. Set aside.
In the bowl of a standing mixer fitted with the paddle attachment, combine the butter and granulated sugar, and blend well. Scrape down the sides of the bowl and then continue to mix until slightly fluffy. Add the egg and vanilla, and mix on medium speed until fully incorporated. Beat or stir in the flour mixture until incorporated.
Divide the dough in half and roll each half into a ball. Place each dough ball between two pieces of parchment or wax paper, and roll out to 1/8-inch thickness. Stack the rolled-out portions of dough on top of each other on a baking sheet, and refrigerate for at least 1 hour and up to overnight. (If it has been refrigerated overnight, allow the dough to warm up slightly at room temperature before cutting out the cookies.)
Line several baking sheets with parchment paper, or spray them with nonstick cooking spray.
Working with 1 piece of dough, peel away and discard 1 piece of the parchment paper. Using a 2 1/4-inch round cookie cutter, cut out 18 rounds (any dough trimmings can be rerolled and cut) and transfer them to one of the prepared baking sheets, spacing them 1 to 1 1/2 inches apart. Repeat with the remaining dough. Refrigerate the cookies for 20 minutes before baking.
Meanwhile, preheat the oven to 350 degrees F.
Bake the cookies for 6 minutes, or until they are almost firm. (Do not overbake the cookies or they will become too crisp.) Transfer the baking sheets to wire racks to cool for 2 to 3 minutes. Once the cookies have firmed up, transfer them to wire racks to cool completely.
To make the peanut butter fudge: Combine the peanut butter, marshmallow creme,
confectioners' sugar, and the remaining 2 teaspoons vanilla in the bowl of a standing mixer fitted with the paddle attachment. Beat until the mixture begins to pull away from the sides of the bowl, forming a ball. Transfer the fudge to a sheet of parchment paper. Cover it with a second piece of parchment and press gently to flatten it. Using a rolling pin, roll the fudge out to a scant 1/4-inch thickness. Transfer the fudge, still between the parchment, to a baking sheet and set it aside.
To assemble: Remove the top sheet of parchment paper, and using a 2 1/4-inch round cookie cutter, cut out 18 rounds of fudge. If necessary, reroll and cut any scraps. Place 1 piece of the fudge on half of the cookies. Place the remaining cookies on top, and gently sandwich together.
This recipe was styled by chef Karen Pickus for Good Morning America.
Recipe courtesy Emeril Lagasse, adapted from Emeril's Kicked-Up Sandwiches: Stacked with Flavor, HarperCollins Publisher, New York, 2012, copyright MSLO, Inc., all rights reserved
Other Recipes That You Might Like