Emeril's Creamy Carrot and Apple Soup with Ginger Crème Fraiche
A Creamy Soup With a Kick of Ginger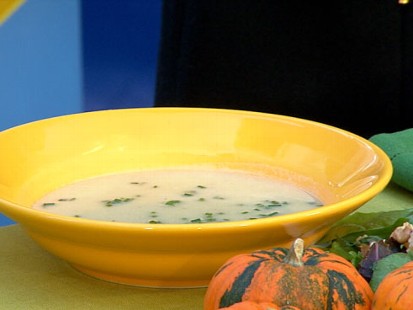 Chef Emeril Lagasse adds a special twist to a traditional Thanksgiving feast.
From the kitchen of Emeril Lagasse
|
Try Emeril's carrot and apple soup with a ginger creme fraiche. It makes a wonderful first course on Thanskgiving day.
Ingredients
2 tablespoons unsalted butter
¾ cup thinly sliced yellow onions
Three 5- to 6-ounce carrots, peeled, halved lengthwise, and quartered crosswise
2 tablespoons Calvados or brandy
1 Granny Smith apple, peeled, cored, and sliced ¼-inch thick
¼ cup crème fraiche
1 teaspoon minced fresh ginger
3 cups heavy cream
½ cup chicken stock, or canned low-sodium chicken broth
1 teaspoon honey
1 teaspoon fresh lemon juice
½ teaspoon salt
¼ teaspoon ground white pepper
1 teaspoon chopped fresh tarragon, garnish
Cooking Directions
Preheat the oven to 350?F.
Melt the butter in a medium ovenproof saucepan or casserole over medium heat. Add the onions and cook, stirring occasionally, until soft, 6 to 8 minutes. Add the carrots and Calvados and stir well. Remove from the heat, cover tightly, and bake until the vegetables are very tender, about 45 minutes. Add the apples, stir, cover tightly, and bake until tender, about 20 minutes.
Combine the crème fraiche and ginger in a small bowl and mix well. Set aside.
Remove the pan from the oven. Add the heavy cream, chicken stock, honey, lemon juice, salt, and pepper, bring to a simmer over medium heat, and cook, stirring, until the mixture is heated through, 2 to 3 minutes. Remove from the heat.
Puree the soup using a hand-held immersion blender, or in batches in a food processor or blender, until smooth.
Ladle the soup into large shallow bowls. Spoon a bit of the ginger crème fraiche into the center of each bowl and garnish with the fresh tarragon. Serve immediately.
Recipe courtesy Emeril Lagasse, adapted from Emeril's Delmonico, William Morrow Publisher, New York, 2005, copyright MSLO, Inc., all rights reserved
This recipe was styled by chef Karen Pickus for Good Morning America.
Other Recipes That You Might Like