Home
>
GMA
>
Recipes Home
>
Emeril's Grilled Pizzas with Prosciutto, Pesto, and Taleggio Cheese
Emeril's Grilled Pizzas with Prosciutto, Pesto, and Taleggio Cheese
No Need to Turn On the Oven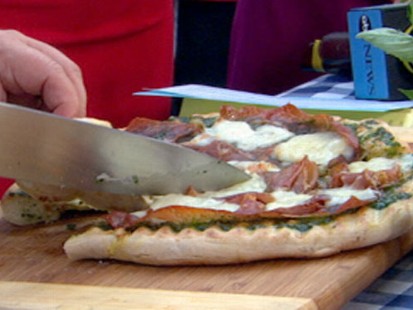 The celebrity chef shows you how to throw the ultimate summer pizza party.
From the kitchen of Emeril Lagasse
|
The grill just isn't for steaks anymore. This homemade pizza gets a smoky, charred taste from the grill. It's as close to a pizza-oven taste that you can get.
Ingredients
2 tablespoons olive oil
1/4 cup all-purpose flour
Basic Pizza Dough (recipe follows)
Cornmeal, for sprinkling on the pizza peel
1/4 cup prepared basil pesto
4 ounces thinly sliced prosciutto
2/3 cup grated Taleggio cheese
For the dough:
One 1/4-ounce packet active dry yeast
1 cup warm water (about 110°F)
Pinch of sugar
1 1/2 teaspoons salt
1 1/2 tablespoons extra-virgin olive oil, plus more for coating the bowl
2 1/2 to 3 cups all-purpose flour, or more if needed
Cooking Directions
Make the pizza dough: Combine the yeast, water, and sugar in a large bowl, and stir well to combine. Set aside until foamy, about 5 minutes.
Add the salt, olive oil, and 11 /2 cups of the flour to the yeast mixture, and mix well to thoroughly combine. Add 1 cup of the remaining flour and mix well with your hands, working to incorporate the flour little by little. The dough should be slightly sticky to the touch. Transfer the dough to a lightly floured work surface and knead it for at least 5 and up to 7 minutes, adding more flour as needed to form a smooth and elastic dough that is not sticky.
Lightly oil a 2- or 3-quart bowl, place the dough in it, and turn it to coat it with oil. Cover the bowl with a damp towel and let the dough rise in a warm place until doubled in size, usually at least 1 hour.
Make the pizza: Preheat a grill to medium, and lightly oil the grate with the olive oil.
Dust a clean work surface with the flour, and divide the dough in half. Roll each portion of dough out to form a 12-inch round. Transfer one of the dough rounds to a pizza peel, or the back of a large baking sheet, coated with cornmeal. Slide the dough onto the hot grill and cook, without turning, until it is well marked and cooked on one side, about 3 minutes. Turn the dough over and quickly spread half of the pesto over the dough in a thin, even layer. Lay half of the prosciutto slices over the pesto, and then sprinkle half of the cheese evenly over the prosciutto. Continue to cook, rotating the dough every 30 seconds or so, until the cheese is melted and the bottom of the crust is well marked and cooked through, 3 to 4 minutes.
Repeat with the remaining dough, pesto, prosciutto, and cheese.
Cut each pizza into 6 slices and serve immediately.
This recipe was styled by chef Karen Pickus for Good Morning America.
Recipe courtesy Emeril Lagasse, from Emeril at the Grill: A Cookbook for all Seasons, HarperCollins Publisher, New York, 2009, copyright MSLO, Inc., all rights reserved
Other Recipes That You Might Like