Emeril's Lyonnaise Sandwich
Delicious for Breakfast or Lunch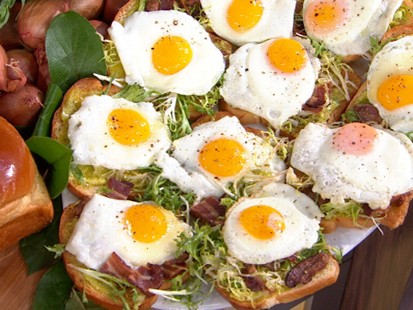 TV chef discusses the launch of his annual 'Breakfast in Bed' Mother's Day competition on "GMA."
From the kitchen of Emeril Lagasse
|
The Lyonnaise salad is classic French bistro fare. Here I've deconstructed the salad and turned it into an open-face sandwich with bacon, eggs, and frisée lettuce. This sandwich is great any time of the day—perfect for breakfast or lunch and yet sophisticated enough to have for dinner.
Ingredients
1 bunch frisée lettuce, rinsed, spun dry, and roughly chopped
1 pound applewood-smoked bacon, cooked and crumbled into bite-size pieces
1 cup Dijon Vinaigrette (recipe follows)
¼ teaspoon sea salt or kosher salt, plus more for seasoning
Freshly ground black pepper, for seasoning
2 tablespoons butter
8 large eggs
8 slices crusty rustic bread, such as peasant bread or artisanal wheat bread, toasted
1 cup Herbed Aïoli
For the aioli:
1 large egg, at room temperature
1 tablespoon freshly squeezed lemon juice
1 teaspoon Dijon mustard
1 teaspoon minced garlic
1/2 teaspoon salt
¼ teaspoon freshly ground white pepper
1 teaspoon chopped fresh tarragon leaves
1 teaspoon chopped fresh chervil leaves
1 teaspoon snipped fresh chives
1 teaspoon chopped fresh parsley leaves
1 teaspoon chopped fresh basil leaves
1 cup olive oil
For the dijon vinaigrette:
¼ cup red wine vinegar
¼ cup minced shallot
2 tablespoons whole-grain Dijon mustard
¼ teaspoon minced garlic
¼ teaspoon salt
1/8 teaspoon freshly ground black pepper
¼ cup olive oil
¼ cup extra-virgin olive oil
Cooking Directions
In a large mixing bowl, toss the frisée and the bacon with some of the Dijon Vinaigrette, and season with the ¼ teaspoon salt and black pepper to taste.
In a large nonstick sauté pan, melt the butter over medium heat. Raise the heat to high, crack 2 of the eggs into the hot sauté pan, and season them lightly with salt and pepper. Fry the eggs for 2 to 3 minutes, until the yolk has almost set. (Cook the egg for less time for a runnier yolk.) Set aside on a plate. Repeat with the remaining eggs.
Spread 1 tablespoon of the Herbed Aïoli over each slice of toast. Divide the frisée salad among the 8 slices, and top each with a fried egg. Drizzle each sandwich with some of the remaining vinaigrette, and serve immediately.
For the aioli:
In the bowl of a food processor, combine the egg, lemon juice, mustard, garlic, salt, pepper, tarragon, chervil, chives, parsley, and basil. Process for 1 minute or until the herbs are pureed. While the motor is running, slowly add the olive oil in a thin, steady stream and blend until the mixture is thick. Use immediately or store, covered, in the refrigerator for up to 3 days.
For the dijon vinaigrette:
Combine the vinegar, shallot, mustard, garlic, salt, and pepper in a blender, and process for 45 seconds. While the blender is still running, slowly add the olive oils in a thin, steady stream, processing until the vinaigrette is emulsified.
The vinaigrette can be stored in a nonreactive airtight container in the refrigerator for up to 1 week.
Recipe courtesy Emeril Lagasse, from Emeril's Kicked-Up Sandwiches: Stacked with Flavor, HarperCollins Publishers, New York, 2012, copyright MSLO, Inc., all rights reserved
This recipe was styled by chef Karen Pickus for Good Morning America.
Other Recipes That You Might Like