Emeril's Mango-Basil Freeze Pops
Fruity Frozen Pops for a Hot Day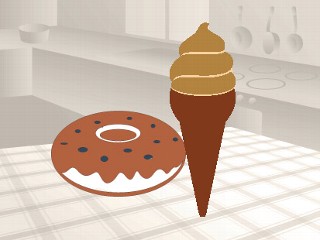 From the kitchen of Emeril Lagasse
|
When the temperatures start to rise, beat the heat with these cool treats. They're a sweet end to a grilled feast.
Ingredients
1 cup sugar
1 cup water
1/2 cup packed fresh basil leaves, coarsely chopped
2 ripe mangoes, peeled, seeded, and cubed (about 2 1/2 cups)
Cooking Directions
Place the sugar and water in a small saucepan and bring to a boil, stirring to dissolve the sugar. Add the basil, cover, and remove from the heat. Let sit for 15 minutes. Then strain the syrup into a bowl (discard the basil leaves), and refrigerate until well chilled, 1 to 2 hours.
When the syrup has chilled, place the cubed mango in a food processor or blender and puree, adding the syrup little by little until it is fully incorporated and the fruit mixture is very smooth. Divide the fruit puree among six or eight 5-ounce paper cups, or better yet, among ice cube trays or Popsicle molds. Stand an ice cream stick or a small plastic spoon in the center of each cup.
Cut out six or eight 4-inch squares of aluminum foil. Poke a small hole in the center of each square, and place one square over each cup, pushing the stick or spoon handle through the hole to hold it in a straight upright position.
Stand the cups in the freezer and freeze until set, at least 8 hours or overnight.
Remove the pops from the freezer and discard the foil squares. Gently tear the paper cups away from the fruit pops, and serve.
Recipe courtesy Emeril Lagasse, from Emeril at the Grill: A Cookbook for all Seasons, HarperCollins Publisher, New York, 2009, copyright MSLO, Inc., all rights reserved
Other Recipes That You Might Like