Emeril's New Orleans Style Pie with Gluten Free Crust
Make This Gluten-Free Treat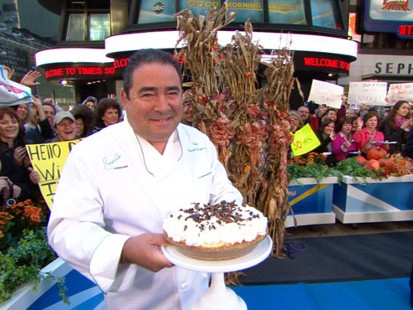 Emeril Lagasse prepares favorite recipes, including banana cream and pecan pies.
From the kitchen of Emeril Lagasse
|
This gluten free pie is a great option for those who can't have wheat. Make this for your family for the holidays.
Ingredients
For the pie filling:
1 cup light Karo syrup
3 whole eggs plus 1 yolk, beaten
?? cup light brown sugar
?? cup white sugar
2 tablespoons melted butter
1 teaspoon vanilla
?? teaspoon almond extract
1 ?? cups shelled pecan halves or pieces
1 Gluten Free Pie Crust, partially blind baked as described in recipe below
For the pie crust:
1 cup white rice flour
?? cup tapioca flour
?? cup potato starch
1 heaping teaspoon xantham gum
?? teaspoon salt
1 tablespoon sugar plus 1 teaspoon sugar
?? cup shortening
?? cup butter
1 egg, lightly beaten
1 tablespoon vinegar
2 to 3 tablespoons ice water
Sweet rice flour for dusting
Cooking Directions
For the crust:
In a medium bowl, whisk together the rice and tapioca flours, potato starch, xantham gum, salt, and sugar. Cut in the shortening and butter. Blend together the beaten egg, vinegar, and cold water. Stir into the flour mixture and knead into a ball. You cannot over knead this dough.
Form dough into two balls and place in a bowl; cover and refrigerate for 30 minutes. Remove and roll out one ball of the dough between two sheets of parchment paper dusted with sweet rice flour. Remove the top sheet of parchment and invert the dough and drop it into the pan. The dough is delicate and should be handled with care. Shape the dough around the edges if necessary using any extra bits and pasting with a little extra cool water, as you would with normal pie dough. Repeat this process with the second ball of dough to form a second pie crust. Line the crusts with parchment, fill with pie weights and bake in a preheated 450??F oven for 10 to 12 minutes, or until dough is lightly golden around the top edges and the bottom of the pie pastry is opaque and dry. Freeze the second crust for another use. Allow crust to cool before making the filling.
Yield: 2 pie crusts, or enough pastry for one double-crust pie
Note: dough does not hold well, so we advise either making 2 pies or partially blind baking as described above and freezing for a later date.
For the filling:
In a bowl, combine all of the ingredients except for the pecans. Mix well. Arrange the pecans on the bottom of the partially blind baked pie crust and carefully pour the filling over them. The pecans will float to the top. In a preheated 350??F oven bake for 55 to 60 minutes or until the filling has set and reaches a temperature of 200??F.
Allow pie to cool on a rack for at least two hours before serving.
Recipe courtesy Emeril Lagasse, copyright MSLO, Inc., all rights reserved
This recipe was styled by chef Karen Pickus for Good Morning America.
Other Recipes That You Might Like