Emeril's Pear and Cranberry Tartlets
Try These Cute Mini Pies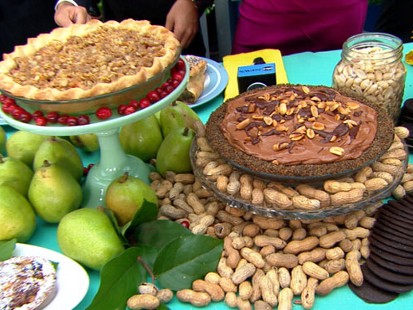 Emeril Lagasse prepares favorite pies, discusses his new show, "Emeril's Table."
From the kitchen of Emeril Lagasse
|
Try these mini pies using Emeril's Mini Pie Maker.
Ingredients
2 D'Anjou pears, very ripe, peeled, cored and diced
1/3 cup fresh or frozen cranberries
1 tablespoon sugar
1 teaspoon fresh lemon juice
1 teaspoon cornstarch
3/4 teaspoon ground cinnamon
1/4 teaspoon grated nutmeg
¾ cup rolled oats
¾ cup packed light brown sugar
1/4 cup plus 2 tablespoons all-purpose flour
6 tablespoons unsalted butter, cut into pieces
1 recipe Sweet Pie Crust, or storebought pie crust dough for 1 9-inch pie
For the Sweet Pie Crust:
1 ¼ cups all-purpose flour
1 tablespoon sugar
1/8 teaspoon salt
6 tablespoons cold unsalted butter, diced
2 tablespoons ice water
1 egg yolk, beaten
Cooking Directions
In a large bowl, combine the pear, cranberries, sugar, lemon juice, cornstarch, 1/4 teaspoon of cinnamon, and 1/8 teaspoon of nutmeg, and toss well to combine.
In a separate bowl, combine the oats, brown sugar, flour, remaining 1/2 teaspoon of cinnamon, and remaining nutmeg. Blend the butter into the dry ingredients using your fingers until the mixture resembles coarse crumbs. (You will have more of the crumble mixture than needed for 4 tarts but the crumble can be kept in a resealable container or plastic bag in the freezer for up to 1 month.)
On a lightly floured surface, roll out the dough to a thickness of 1/8 inch. Using the side of the cutter marked "bottom", cut out 4 discs of the dough and place in the cold Mini Pie and Cake maker. Spoon ¼ cup of the pear and cranberry mixture into each of the pastry-lined wells, then top each with ¼ cup of the oat crumble mixture. Close the lid and cook for 15 to 16 minutes, or until bubbly and golden brown.
Remove the tartlets from the machine and let cool on a wire rack.
For the Sweet Pie Crust:
In the bowl of a food processor, add the flour, sugar, and salt and pulse just to mix. Add the butter and pulse until the mixture resembles coarse cornmeal.
Add the egg yolk and pulse until just incorporated, about 10 seconds. While continuing to pulse, add the ice water, little by little through the feed tube, processing just until the dough begins to hold together. Do not overprocess. Test the dough at this point and if it is crumbly add a bit more water.
Turn the dough out onto a lightly floured work surface or onto a piece of parchment paper. Press the dough into a flat circle and wrap in plastic wrap. Refrigerate the dough for at least half an hour and up to overnight.
Remove the dough from the refrigerator and let it warm up slightly. On a lightly floured work surface, roll out the dough to a thickness of 1/8 inch.
Use as desired.
Yield: 1 9-inch pie crust or 4 mini-crusts
Recipe courtesy Emeril Lagasse, copyright Martha Stewart Living Omnimedia, Inc.
This recipe was styled by chef Karen Pickus for Good Morning America.
Other Recipes That You Might Like