Emeril's Poached Eggs Over Crispy Stuffing Cakes With Herbed Gravy
The Perfect Breakfast for the Day After Thanksgiving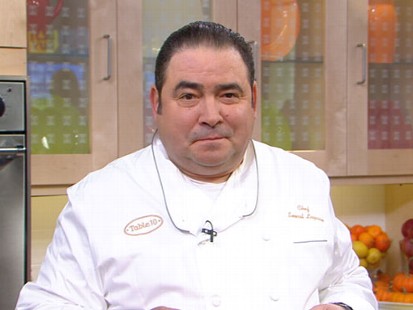 Emeril Lagasse has great recipes to add to your family's Thanksgiving meal.
From the kitchen of Emeril Lagasse
|
With Thanksgiving leftovers filling up the fridge, why not use them
Ingredients
4 cups leftover stuffing, or Sausage and Walnut Stuffing, recipe follows
Non-stick cooking spray
4 tablespoons unsalted butter
1 cup cooked greens, such as spinach, kale, mustard greens, or Spinach Sauteed with Garlic and Onions, recipe follows
1 quart leftover turkey gravy or Herbed Gravy, recipe follows
4 slices roast turkey breast
4 large eggs
2 teaspoons white vinegar
Chopped parsley for garnish
For the spinach:
2 tablespoons olive oil
2 tablespoons thinly sliced garlic
1 cup sliced red onions
1/4 cup chicken stock
1 pound baby spinach
1/2 teaspoon salt
1/4 teaspoon pepper
For the stuffing:
1 loaf crusty, white bread, cut into ½ inch cubes (10 cups)
¼ cup unsalted butter
1 medium yellow onion, medium dice (about 1 ¼ cups)
1 stalk celery, medium dice
1 clove garlic, minced
1 cup mild Italian sausage or fennel sausage, cooked and crumbled
1 cup walnuts, toasted and chopped
¼ cup currants or other dried fruit of choice such as cranberries
2 tablespoons parsley, roughly chopped
2 teaspoons sage, chiffonade or finely chopped
1 teaspoon salt
1/2 teaspoon freshly ground black pepper
3 eggs, lightly beaten
2 cups chicken stock
½ cup heavy cream
For the gravy:
½ cup butter
½ cup all purpose flour
4 cups turkey stock or chicken stock
1 tablespoon chopped fresh Italian parsley
1 tablespoon chopped fresh sage
1 teaspoon chopped fresh thyme
1 teaspoon chopped fresh rosemary
1 teaspoon salt
1/2 teaspoon freshly ground black pepper
1 teaspoon cider vinegar, optional
Cooking Directions
For the spinach:
In a medium skillet over medium-high heat, add the olive oil and, when hot, add the garlic and cook until lightly toasted, about 30 seconds. Add the onions and chicken stock and cook until stock is nearly completely reduced, 1 to 2 minutes. Add the spinach and cook, stirring, until wilted, about 2 minutes.
Season with the salt and pepper.
For the stuffing:
Preheat the oven to 400 degrees F.
Arrange the cubed bread in a single layer on two baking sheets. Toast in the oven until the bread is golden brown, 10 to 12 minutes. Remove from the oven and allow to cool.
Lightly butter an 8-by-12 inch baking dish.
In a medium size sauté pan, over medium heat melt the remaining butter. Add the onion, celery and the garlic and cook until the onion is soft and translucent, 5 to 6 minutes. Add the sausage, walnuts, currants, parsley, sage and salt and pepper to the pan and cook for 2 minutes longer.
Transfer all of the ingredients to a large bowl. Add the eggs and stir well. Combine the chicken stock and heavy cream in a measuring cup or pitcher. Add the mixture to the bowl in two additions, stirring until all the liquid has been absorbed. Transfer the stuffing to the prepared baking dish. Bake, uncovered, until golden brown on top, 25 to 30 minutes. The stuffing may be served warm or at room temperature.
For the herbed gravy:
Melt the butter in a 4-quart heavy pot and stir in the flour. Cook roux over moderate heat, whisking as needed for 5 minutes, until lightly browned. Add stock mixture in a stream, whisking constantly to prevent lumps. Then bring to a boil, reduce heat to low. Stir in any turkey juices accumulated on platter and simmer for 5 minutes. Add herbs and season with salt and pepper. Add cider vinegar, if desired, and mix well. Remove from the heat and serve immediately, or keep warm until ready to serve.
To assemble:
Preheat the oven to 200 degrees F.
Prepare the stuffing cakes by spraying four 8-ounce ramekins with non-stick spray. Press the stuffing firmly into the ramekins so that it is densely packed. This ensures that the stuffing cakes will stick together while they are cooking. Remove the cakes from the ramekins by turning the ramekin upside down and tapping it gently on a clean work surface. In a large nonstick skillet or sauté pan, over medium heat, melt 2 tablespoons of butter. As soon as the butter begins to bubble, add 2 stuffing cakes to the pan and cook for 2 minutes per side or until the cakes are crispy and heated through. Using a spatula, transfer the cakes from the pan to a baking sheet. Add the remaining 2 tablespoons of butter to the pan and cook the 2 remaining stuffing cakes. Place the stuffing cakes in the warm oven until ready to serve.
Add the greens to the same pan as the stuffing cakes and gently cook over medium low heat until just warm. In a medium size sauce pan, over medium low heat, bring the gravy to a gentle simmer. Turn the heat down to low and add the turkey slices to the gravy just to warm through.
In a large sauce pot, bring the water to a boil, add the vinegar, and immediately reduce heat to a simmer. Crack the eggs into individual bowls. Working in batches of two, drop one egg at time into the simmering water and cook them for about 3 minutes, or until they have become opaque and the whites are coagulated. Carefully remove the eggs with a slotted spoon and set aside on a paper towel -lined plate. Season with salt and pepper.
To serve, remove the stuffing cakes from the oven and place them on individual plates. Spoon ¼ cup of greens on top of each of the stuffing cakes. Lay one slice of turkey on top of the greens, top the turkey with the poached egg and ladle 2 or 3 ounces of the gravy over each poached egg. Sprinkle with chopped parsley and serve immediately.
Cooks note*
This recipe calls for any variety of leftover stuffing; you can use whatever you have on hand. If your stuffing is slightly dry or crumbly you may consider adding a small amount of chicken stock or leftover gravy to the mix. It is necessary that the stuffing be slightly wet in order for the cakes to adhere together while cooking.
This recipe was styled by chef Karen Pickus for Good Morning America.
Recipe courtesy Emeril Lagasse, copyright MSLO, Inc., all rights reserved
Other Recipes That You Might Like