Emeril's Pressed Roast Turkey, Pesto and Provolone Sandwiches
A Delicious Way to Use Leftovers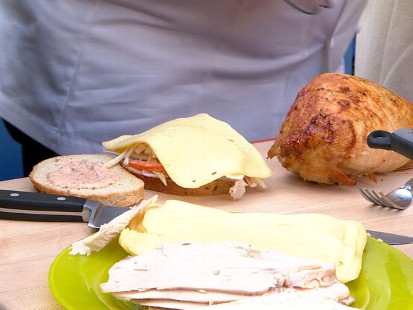 Chef Emeril Lagasse shows the "GMA" anchors how to turn Thursday night's turkey into today's top dish.
From the kitchen of Emeril Lagasse
|
Tired of leftovers? This sandwich from Emeril is a delicious way to eat extra turkey.
Ingredients
8 slices ciabatta or other crusty Italian or hearty white sandwich bread
4 tablespoons prepared basil pesto
4 slices (about 4 ounces) provolone cheese
8 slices (about 8 ounces) roast turkey
11/2 tablespoons extra-virgin olive oil
Cooking Directions
Lay the bread slices on a clean work surface, and spread 1 1/2 teaspoons of the pesto over one side of
each slice of bread. Divide the cheese evenly among the slices (depending on the size of your cheese slices, you may need to cut them in half so that you can have cheese on both sides). Divide the roast turkey slices evenly among 4 of the bread slices. Place the remaining cheese-topped slices on top of the turkey-topped slices to form 4 sandwiches. Brush the outside of each sandwich with some of the olive oil.
Preheat a grill pan over medium heat. When it is hot, add the sandwiches, in batches if necessary, and
weight them with a sandwich press or another skillet (or other heavy object). Cook until the sandwiches
are golden brown and crisp and the cheese has melted, 4 to 6 minutes per side. Remove the sandwiches, cut in half on the diagonal, and serve immediately.
Note: Though we prefer the crisp, ridged exterior you get when these sandwiches are cooked in a grill
pan, they can also be cooked in a sauté pan or panini press; the cook time will vary slightly.
Recipe courtesy Emeril Lagasse, Emeril 20-40-60: Fresh Food Fast, HarperCollins Publisher, New York, 2009, copyright MSLO, Inc., all rights reserved
This recipe was styled by chef Karen Pickus for Good Morning America.
Other Recipes That You Might Like