Emeril's 'The Rachel' Sandwich
Add Life to Your Leftovers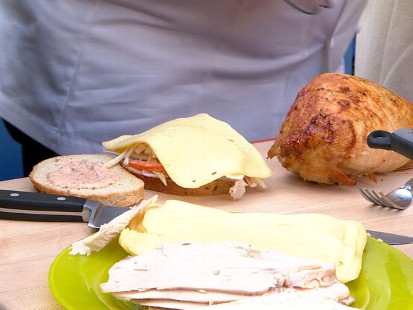 Chef Emeril Lagasse shows the "GMA" anchors how to turn Thursday night's turkey into today's top dish.
From the kitchen of Emeril Lagasse
|
Try Emeril's "The Rachel" sandwich made with leftover turkey, Swiss cheese and Russian dressing.
Ingredients
8 slices rye bread
1/2 cup Russian Dressing (recipe follows)
8 ounces sliced Swiss cheese
12 ounces sliced roasted turkey breast
1 cup Jicama Coleslaw
For the coleslaw:
1 small jicama, peeled and julienned (about 2 cups)
1 chayote, peeled and julienned (about 1 cup)
1 cup thinly sliced red onion
1 cup thinly sliced orange bell pepper
2 thinly sliced jalapeños, with seeds
¼ cup mayonnaise, homemade or store-bought
¼ cup buttermilk
¼ cup freshly squeezed lime juice
1 tablespoon Dijon mustard
1 teaspoon salt
1 teaspoon sugar
1/2 teaspoon cayenne pepper
Cooking Directions
Position an oven rack in the center and preheat the oven to 350°F.
Arrange the bread in a single layer on a parchment-lined baking sheet. Spread 2
tablespoons of the Russian dressing on each of 4 bread slices. For each sandwich,
layer 2 slices of the cheese on top of the dressing, then layer 3 slices of the turkey
on top of the cheese. Transfer the baking sheet to the oven and cook until the bread
is slightly toasted, the turkey is warmed, and the cheese is completely melted,
about 6 minutes.
Remove from the oven and carefully transfer the sandwiches and the toast to a
work surface. Divide the slaw evenly among the turkey-topped slices, and then top
with the remaining toast. Serve immediately.
For the jicama:
In a medium bowl, combine the jicama, chayote, red onion, bell pepper, jalapeños, mayonnaise, buttermilk, lime juice, Dijon mustard, salt, sugar, and cayenne. Mix well and refrigerate for at least 1 hour and up to overnight.
Note: If you don't have buttermilk on hand, you can make your own by adding 1 tablespoon distilled white vinegar to 1 cup whole milk. Stir to blend and set aside until thickened and creamy, usually about 5 minutes; then use as needed.
Recipe courtesy Emeril Lagasse, from Emeril's Kicked Up Sandwiches: Stacked with Flavor, HarperCollins Publisher, New York, 2012, copyright MSLO, Inc., all rights reserved
This recipe was styled by chef Karen Pickus for Good Morning America.
Other Recipes That You Might Like