Erin Chase's Loaded Potato Frittata
Good for Breakfast or Dinner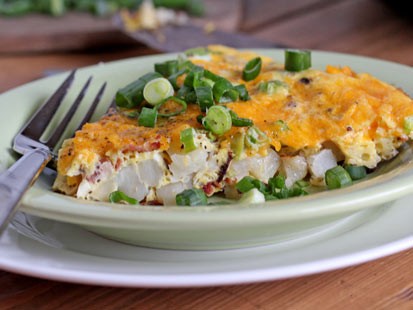 From the kitchen of Erin Chase
|
"Breakfast for dinner is always a great option for those days when you don't know what to make or you need something on the table in just a few minutes. Chances are you've got eggs in the fridge, potatoes in the cupboard and if you're a bacon lover, you've always got bacon on hand. This frittata is the perfect all-in-one breakfast, brunch, lunch or dinner recipe!"
To purchase a copy of Erin Chase's cookbook, "The $5 Dinner Mom One-Dish Dinners Cookbook" visit her site here.
Ingredients
6 slices turkey bacon or all-natural bacon ($.75)
4 medium Idaho potatoes, peeled and diced ($.60)
8 eggs ($.80)
½ cup milk ($.05)
¼ cup sour cream ($.25)
Salt and pepper
1 ½ cup shredded cheddar cheese ($1)
1 bunch green onions, sliced ($.50)
Fresh fruit, such as Clementine oranges, apple slices, bananas, cantaloupe wedges ($.50)
Cooking Directions
Preheat oven to 350.
Cook the bacon in a 12" cast iron skillet. Remove the bacon from the skillet and let drain on a paper towel. Crumble.
Saute the diced potatoes in the bacon grease for 5 to 7 minutes, or until they begin to soften. Once softened, add the crumbled bacon back into the skillet with the potatoes.
In a mixing bowl, whisk together the eggs, milk and sour cream. Whisk in a little salt and pepper. Pour the egg mixture over the softened potatoes and let cook on the stovetop for about 3 minutes, or until you see the eggs along the edges begin to set.
Transfer the skillet to the preheated oven and bake for 15 to 20 minutes, or until the eggs in the middle have set. Add the shredded cheese to the top and then bake for another 5 minutes. Be sure to use a heavy duty oven mitt, as the handle will be hot.
Once the cheese is melted, remove the skillet from the oven. Let cool slightly before slicing.
Serve Loaded Potato Frittata topped with green onion slices and a side of fresh fruit.
Cost $4.45
Frugal Fact: My "never pay more than" for a package of turkey bacon or all-natural bacon is $2. They often go on sale for close to that price, and every few months a coupon is released in the newspaper and online.
Other Recipes That You Might Like