Erin Chase's Maple Pumpkin Pie
Try This Budget Friendly Dessert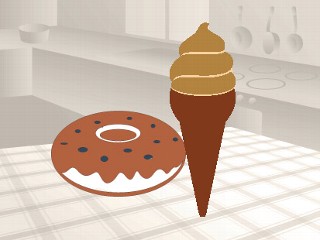 From the kitchen of Erin Chase
|
What flavor of autumn work best in the traditional pumpkin pie…maple, of course!
Ingredients
For the crust:
1 cup all-purpose flour
½ teaspoon salt
1/3 cup shortening or butter
2-4 Tablespoons cold water
For the filling:
1 15 oz. canned pumpkin puree
½ cup maple syrup
¼ cup brown sugar
1 ¼ cup heavy cream
1 teaspoon ground cinnamon
½ teaspoon ground ginger
¼ teaspoon ground cloves
¼ teaspoon ground nutmeg
½ teaspoon salt
2 eggs
Cooking Directions
Preheat oven to 425. Grease a 9" pie plate with non-stick cooking spray.
To prepare homemade pie crust, place flour in mixing bowl; add butter and cut in with pastry blender. Add salt and then add cold water 1 Tablespoon at a time. Mix and toss ingredients together with a fork until dough ball forms. Divide dough ball in two and place each in plastic wrap or Ziploc baggie and put into the refrigerator while you make the filling. Pie crust can be made up to a day in advance and kept in the refrigerator.
In a mixing bowl, whisk together the pumpkin puree, maple syrup, brown sugar, heavy cream, cinnamon, ginger, cloves, nutmeg and salt. Whisk in the eggs.
Once filling is prepared, take the dough ball from the fridge and place on lightly floured surface. Using a lightly floured rolling pin, roll out the crust dough into a circle at least 12 inches in diameter and gently fold pie crust into quarters. Move the folded pie crust from the counter to the greased pie plate. Unfold in the pie plate.
Pour maple pumpkin filling into pie shell.
Bake at 425 for 15 minutes. Reduce the temperature to 350, and continue baking for 45 to 50 minutes. Use a pie crust shield, or foil to keep the crust edges from burning.
Let cool on cooling rack. Refrigerate if you wish to serve chilled. Cover if you plan to refrigerate longer than an hour.
Serve Maple Pumpkin Pie chilled or room temperature with whipped topping.
Recipe courtesy Erin Chase, author of The $5 Dinner Mom Cookbook and The $5 Dinner Mom Does Breakfast and Lunch and founder of $5 Dinners.com and OneDishDinners.com.
Other Recipes That You Might Like