Erin Chase's Shrimp Mango Curry
An Inexpensive Meal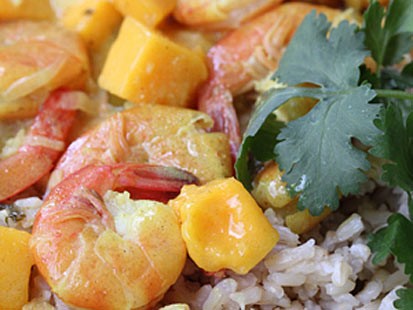 From the kitchen of Erin Chase
|
Shrimp reeks expensive. And it certainly can make for an expensive meal.
But you can still enjoy some delicious shrimp without burning a hole in your wallet. Shrimp can be bought in a number of different varieties…cooked, raw, fresh, frozen, tailless, by count, from mini to jumbo prawn. It's often on unadvertised sales, and can be found for less at "non-chain" grocery stores.
When paired with other inexpensive ingredients like rice, mango and coconut milk, you've got a gourmet meal for 4 for less than $10.
And it's not uncommon to see store brand cans of coconut milk for less than $1.50 per can. And be sure to get mangoes when they go on sale for less than $1. Add some spices and you've got a delicious curry. And serve it over rice to get the most bang for your buck.
Erin Chase is the founder of 5dollardinners.com.
Ingredients
1 tablespoon olive oil
1 bunch green onions
2 garlic cloves, crushed
1 15 oz can light coconut milk
1 1/2 tablespoon curry powder
1 tsp ground ginger
3/4 to 1 pound shrimp, with or without tails, cooked or raw
1 mango, peeled, seeded and diced
Salt and pepper to taste
1 cup brown rice, cooked
Cilantro for garnish
Cooking Directions
In a large Dutch oven, heat the olive oil and saute the green onions and crushed garlic for 30 seconds to 1 minute. Stir in the coconut milk, curry powder and ginger.

Drop the shrimp and diced mango into the sauce. Let cook for 3 to 5 minutes, or until shrimp have turned pink (if they were raw). Reduce heat to low and cook for 10 minutes, allowing flavors to marry.

If you don't plan to serve it right away, remove it from the heat and reheat, so the mangoes don't overcook.
Serve Shrimp Mango Curry over brown rice with cilantro garnish.

Recipe courtesy Erin Chase.

Other Recipes That You Might Like