Erin Chase's Spicy Southern Chili Served in Bread Bowls
Try This Hearty Chili For Friday Night's Dinner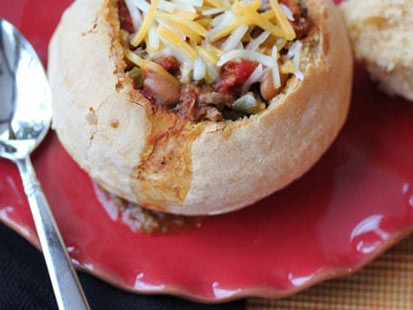 From the kitchen of Erin Chase
|
Ingredients
For bread bowls:
1 cup lukewarm water
1 Tbsp olive oil ($.10)
1 tsp salt
3 cups all-purpose or bread flour ($.60)
1 packet active dry yeast ($.25)
1 tsp sugar ($.01)
1 Tbsp chili powder ($.05)
For chili:
1.25 lb ground chuck ($2.45)
1/2 red onion, chopped ($.20)
4 garlic cloves, crushed ($.10)
1 15 oz can Hunts stewed tomatoes ($.16)
1 10 oz can Rotel diced tomatoes with green chilies ($.16)
About 2 1/2 cups cooked pinto beans ($.40)
2 Tbsp chili powder ($.10)
Salt and pepper to taste
Optional Toppings: shredded cheese, sour cream, scallions ($.50-$1)
Cooking Directions
Place the ingredients in the order listed into the bread machine and run the dough cycle. When finished, lightly knead the dough on a clean and floured surface. Divide the dough into 6 equal parts and form into the shape of a ball. Let rise for about 30 minutes in a warm place. Bake at 350 for 15-20 minutes. Let cool slightly before cutting the tops out with a bread knife.
In a large saucepan, brown the ground beef with the red onion and garlic. Drain and return to the pan.
Add the stewed tomatoes, and Rotel diced tomatoes with green chilies, pinto beans and chili powder. Let simmer for 20-30 minutes. Season with salt and pepper to taste.
Serve Spicy Southern Chili in Bread Bowls.
For more great recipes from Erin Chase, check out her $5 Dinners site here.
Other Recipes That You Might Like