Fabio Viviani's Carrot-Ginger Bisque
A Spicy Fall Soup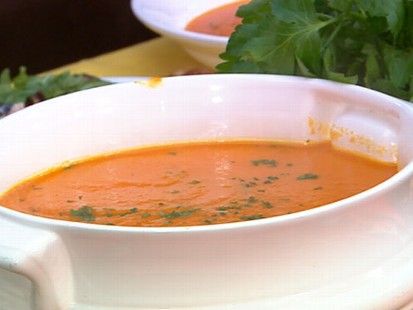 "Life After Top Chef" star shares classic Thanksgiving, fall dishes.
From the kitchen of Fabio Viviani
|
It is getting cold. It is getting gloomy. You may feel empty or lonely because of this. Or, you could even be sick because of the cold!! Either way, when you make this delicious Bisque, you will forget all of your troubles and will be swallowed by the comforting, creamy texture and amazing ginger and carrot flavors!!
Ingredients
4 sliced shallots
2 lbs slices carrots
2 oz. knob ginger
¼ cup basmati rice
5 cups chicken broth
Pick of chopped parsley
Salt
Cooking Directions
Sauté 4 sliced shallots in butter; season with salt and pepper.
Add 2 lbs. sliced carrots, 2 oz. knob of Ginger, ¼ cup Basmati Rice, 5 cups chicken broth. Simmer until the rice is tender.
Add chopped parsley; puree.
This recipe was styled by chef Karen Pickus for Good Morning America.
Recipe courtesy Fabio Viviani.
Other Recipes That You Might Like