Fabio Viviani's Tuna With Tomatoes and Capers
'Top Chef' Star's Tuna alla Livornese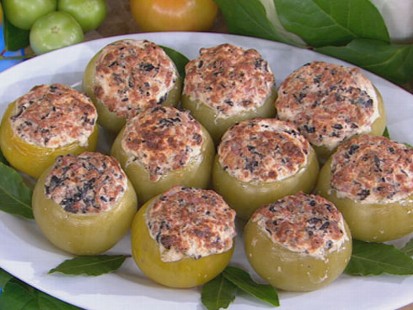 Author of "Fabio's Italian Kitchen" also prepares his baked stuffed tomatoes and grape tarts.
From the kitchen of Fabio Viviani
|
Try the "Top Chef" star's recipe for Tuna alla Livornese.
Ingredients
6 cloves garlic, crushed
2 bunches oregano, tied with string
1/2 cup olive oil
8 anchovy fillets
2 sprigs rosemary
2 cups Fabio's Tomato Sauce
1/2 cup capers, drained, or rinsed if salted
2 lb. cherry tomatoes, cut in half
Salt and pepper
4 tuna steaks, 8 oz. each, preferably center cut
Fresh parsley, chopped
For the sauce:
6 cloves garlic
8 tbsp. extra-virgin olive oil
1 28-oz. can of whole plum tomatoes (packed only in tomato juice)
Salt and pepper
10 basil leaves
Cooking Directions
Place the garlic in a deep sauté pan with the bunches of oregano. Add the oil, turn the heat to medium, and cook until the garlic starts to turn golden.
Add the anchovies, mashing them with a wooden spoon. Then add the rosemary and the tomato sauce and bring to a boil. Turn the heat down a bit and reduce for 10–15 minutes, then add the capers and the cherry tomatoes and season with salt and pepper if necessary.
Place the tuna steaks into the sauce and cook on each side for about 5 minutes over medium heat. Turn the heat off and let the fish rest for 10 minutes.
Remove the tuna and serve with the sauce (reduce it more if you like) and with fresh parsley on top.
Adapted from FABIO'S ITALIAN KITCHEN by Fabio Viviani. Copyright © 2013, VF Legacy, LLC. Published by Hyperion in April 2013. Available wherever books are sold. All Rights Reserved.
This recipe was styled by chef Karen Pickus for Good Morning America.
Other Recipes That You Might Like