Fabio's Mom's Meatballs
Polpettine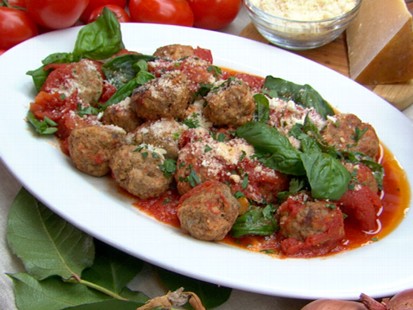 Fabio Viviani prepares his mom's meatballs, drunken spaghetti and tomato salad with orange and feta.
From the kitchen of Fabio Viviani
|
This is probably the best meatball you ever had in your life, or perhaps second only to the one your grandma makes. It's certainly easier, because there is no bothering Grandma here. The best thing about these meatballs is that they stay super moist regardless of how much you cook or overcook them. The tomato sauce preserves the moisture. Everything about meat¬balls calls for soft and moist. Everything about cooking something in the oven calls for hot and dry. Soft and moist does not go with hot and dry, so meatballs should cooked on the stovetop in marinara sauce.
Ingredients
1 lb. ground beef
4 oz. whole milk ricotta cheese
1 cup Parmigiano-Reggiano cheese, grated
1 cup panko breadcrumbs
1 egg
2 cloves garlic, minced
2 shallots, minced
1 tbsp. olive oil
Salt and pepper
2 cups Fabio's Tomato Sauce
Fresh parsley, chopped, for garnish
Extra-virgin olive oil, for drizzling
For the tomato sauce:
6 cloves garlic
8 tbsp. extra-virgin olive oil
1 28-oz. can of whole plum tomatoes (packed only in tomato juice)
Salt and pepper
10 basil leaves
Cooking Directions
Place all ingredients except the tomato sauce, the parsley, and the extra-virgin olive oil in a medium-size bowl and mix thoroughly by hand until they are completely combined and the mixture is uniformly firm. Coat your hands in olive oil, and form balls slightly bigger than a golf ball.
Heat the tomato sauce in a saucepan over medium heat, then drop the meatballs into the sauce and add enough water to allow the sauce to reduce and simmer but not so much that the sauce is totally liquid. Cook for about 10 minutes on one side, then turn the meatballs over, add some more water, and cook for another 10 minutes, using a spoon to cover the meatballs with the sauce as they simmer. Remove from heat and let rest for 5 minutes.
Serve with chopped parsley, salt and pepper, more Parmigiano-Reggiano, and a drizzle of extra-virgin olive oil, of course!
TIP: Don't waste expensive cuts of meat on meatballs! If prepared correctly, a cheaper cut of meat like beef shoulder/chuck, or even scraps will work perfectly.
For the tomato sauce:
Smash the garlic with the back of a knife. Place the garlic and 5 table¬spoons of olive oil in a saucepan and cook over medium heat until the garlic is golden brown. Add the tomatoes and generous pinches of salt and pepper.
Cook over medium-high heat until the sauce is thick and no longer watery, about 10–15 minutes. Add the remaining 3 tablespoons of olive oil and turn the heat to high. Stir, crushing the tomatoes with the back of a wooden spoon. Cook until the oil turns red, then turn off the heat and add the basil at the very end.
From FABIO'S ITALIAN KITCHEN by Fabio Viviani. Copyright © 2013,
VF Legacy, LLC. Published by Hyperion in April 2013. Available wherever books are sold. All Rights Reserved.
This recipe was styled by chef Karen Pickus for Good Morning America.
Other Recipes That You Might Like