Home
>
GMA
>
Recipes Home
>
From the Family Kitchen of Dan Harris: Chocolate-Dipped Pecan Shortbread Logs
From the Family Kitchen of Dan Harris: Chocolate-Dipped Pecan Shortbread Logs
Recipe Courtesy Betty Johnson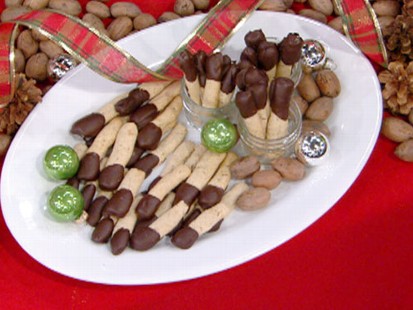 The 'GMA Weekend' anchor shares one of his favorite holiday recipes.
From the kitchen of Betty Johnson
|
Dan Harris shares a secret family recipe. Once you try these delicious cookies we're sure that they will become part of your holiday tradition.
Ingredients
For the Cookies
1 cup pecans
2 cups flour
1 cup confectioner's sugar
1 cup unsalted butter (2 sticks)
Pinch of salt
1 teaspoon vanilla
For Chocolate Dip:
4 ounces of bittersweet chocolate, chopped (chocolates and butter)
2 teaspoons solid vegetable shortening
Cooking Directions
Preheat oven to 350 degrees F.
In a food processor, pulse the pecans until finely ground. Add flour and sugar, and continue to pulse. Then add the butter, salt and vanilla, and pulse until dough is smooth.
Place mixture in bowl, cover with plastic wrap, and let chill for 30 minutes.
Once dough has chilled, shape it between wax paper into logs about the thickness of cigarettes. Trim to three-inch lengths and place on baking sheet.
Bake 10 minutes, or until just beginning to color. Leave on sheet for 1 minute, then remove to wire rack to cool.
In a double boiler (a heat-proof boil set over simmering hot water), gently melt chocolate and stir in the vegetable shortening. Dip cookies and place on wax paper until chocolate has hardened.
This recipe was styled by chef Karen Pickus for Good Morning America.
Other Recipes That You Might Like