Smith & Wollensky's Famous Prime Rib Steak
Turn Your Ordinary Home Cooked Dinner For Two Into A Magic Fine-Dining Moment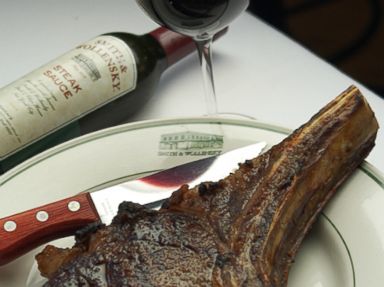 From the kitchen of Lawrence Knapp
|
Executive chef of Smith & Wollensky, Lawrence Knapp stopped by Real Biz to share the secrets behind their 'Cajun Ribeye Steak.'
Check out the recipe below.
Ingredients
For the steak:
1 USDA Prime Rib Steak
Smith & Wollensky Cajun Spice
2 White Onions
4 cups oil
Fleur De Sel
For the S&W Cajun Spice:
1 oz Dried Thyme leaves
1 oz Dried Oregano leaves
1 oz Dried Basil leaves
1 oz Cayenne Pepper
1 oz Chili Powder
1 oz Smoked Paprika
1 oz Ground Black Pepper
1 oz Ground White Pepper
1 oz Garlic Powder
1 oz Onion Powder
1/2 oz Ground Cumin
5 oz Kosher Salt
Cooking Directions
For the S&W Cajun Spice: In a mixing bowl, place all the ingredients together and whisk. Store in airtight container.
For the Marinade: In a saute pan, put 1/2 cup of oil and heat oil over a medium flame. Take the onion and slice them into 1/4 inch slices and place in the oil, cook onion for about 5 minutes. In the last minute of cooking, add 2 tablespoons of the Cajun spice and cook with the onion for the last minute. Add the onion mixture back into the reserved oil and let come to room temperature.
For preparing the Steak: Take the Rib Steak and give a generous coating of Cajun spice all over the steak. Let the steak sit for one hour in the refrigerator. Then take the marinated Rib Steak and place in a plastic container that can fit the size of the steak and pour over the onion marinade. Make sure the steak is completely covered. Place in the refrigerator and let sit for 2 days.
To cook: Preheat the oven to 350 degrees Fahrenheit and then place a cast iron stove over high flame and heat. Remove the Rib Steak from the marinade and wipe off the excess oil. Season both sides of the Rib Steak with the Fleur de Sel. Pour 2 tablespoons of oil into the hot cast iron pan and sear the steak for 3-4 minutes on that side and then flip over and do the same for the other side. After the steak has been seared place on a cookie sheet/tray and finish in the oven for 8-10 minutes. When the steak is done, let it rest on a cooling rack for 3-4 minutes before slicing or serving.
Other Recipes That You Might Like